Yesterday I began a new series here at TSB Magazine called The Success Principles. The series is based on a Jack Canfield program of the same name. If you missed yesterday's first post I suggest you check it out.
Principle 2: Be Clear Why You're Here
When I graduated college seven years ago, quite frankly I panicked. I had breezed through school as an English major, and had delusions of book deals being thrown at me upon graduation. When the cold reality sunk in, that life as writer is not as glorious as it sounds… I sold my soul to the real estate world.
It was the roaring 2000's and the real estate market was where the easy money was. After reading a few books I began my career as a real estate investor. I soon moved onto to become a real estate agent, selling real estate for one of the top offices in north Jersey.
My life as Realtor involved schmoozing young couples into buying a house they couldn't afford. I lived and died for each sale. Like most Realtors at that time, I was banking some solid cash. I was on the fast track to "success."
But I was always fishing for the next sale. I was constantly wearing the mask of a salesman. I was living a life that was incongruent with who I was internally. It go so, that I had trouble interacting with friends and family because I no longer knew who I was. Most of them knew of my early aspirations to live a life of freedom… and here I was, a slave to the sale. I could barely face them.
Finally, at the peak of the market in 2004… I walked away from real estate. I took a much less glamorous job as waiter in a restaurant. Although the money and prestige was gone, I suddenly felt like I had "my life" back.
Canfield eloquently states:
I believe each of us is born with a life purpose. Identifying, acknowledging, and honoring this purpose is perhaps the important action successful people take. They take the time to understand what they're here to do- and then pursue that with passion and enthusiasm.
While some people might have judged me as failure… a college graduate earning his living as a waiter, I looked at it as my time to discover who I was as a person… and what I really wanted to do. Which as Canfield says, is what ultimately lead us to a successful life.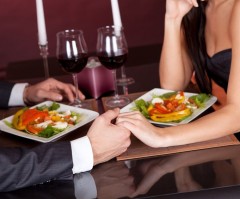 During my time waiting tables and bar tending I learned that I loved interacting with people. I grew quite a huge social circle at that time, and although much time was spent partying, an equal amount of time was spent communicating to various people. Since I was a little older than most people in my social circle, I became like a big brother to many of them. And it was something I was becoming passionate about.
I also learned during my time as a waiter that I loved the flexible hours. I wasn't making bucket loads of cash, but I was traveling whenever I felt like it. In a few years time, I had been more places than most people will see in a life time.
I began to see a clearer image of who I was as person. The guidance I was providing many of the people in my social circle was giving me a sense of purpose that I hadn't felt before.
As Canfield states:
You see, without purpose in life, it's easy to get sidetracked on your life's journey. It's easy to wander and drift, accomplishing little.
Once I had a better understanding of who I was internally, I was able to fully appreciate my mission in life:
To educate, inspire, and entertain others through writing, speaking, and by being a living example of what I preach.
Having a clear purpose to my life gave me a clear focus of what I had to do to get there. I began acquiring as much knowledge as I possible could on how to go about realizing this life. I knew certain things: I would never work for someone else. My time was too valuable to me. I also knew, that I needed to be able to travel, as I've found that my time oversees tends to give me a deeper insight into human nature. I always come back rejuvenated, and full of inspiration.
While it hasn't been an easy road, it is one that I am enjoying every second of. I wake up excited each morning, I look forward to work!
Canfield states:
You were born with an inner guidance system that tells you when you are on or off purpose by the amount of joy you are experiencing.
I could not agree with this more. I was making loads more money in the real estate business. But I wasn't true to myself. And was rarely happy.
A good question to ask yourself is "What is a job that I would love so much that I'd do it for free but that I actually get paid for it?"
What is so wonderful about getting on purpose, is that your energy and enthusiasm radiates outward. I believe that is a core trait of charismatic people. They manifest an enthusiasm that is contagious to all those around them.
If you're totally unsure of what your purpsose is, I suggest taking a look at this post about building a mission statement. There is actually a link in there to a site that helps you build your own personal mission statement.
If you're looking for a further course that will help you develop your passion and purpose, Tony Robbins has a fantastic course called LIve with Passion that will help further explore this ideas.
In the mean time, just begin to get clear why you're here!