I've always been one to embrace a more toned down version of "peacocking," a term made famous from Mystery, of Vh1's The Pick Up Artist.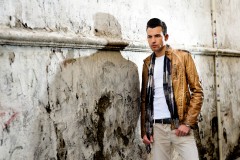 For me, less is more, has always been my mentality.  I've found that having one or two hallmark items is much better than overdosing in mascara, hair dye, and nose rings.
It is also fun if you find your "trademark" item.  A "trademark" item is something that you are somewhat of an aficionado of, and are known in your circle for always being cutting edge.
I have a few friends that are T-shirt aficionados and always rock the coolest vintage T-shirts around.  They crawl through salvation army stores, ebay, and vintage shops in NYC, to find them… but its worth it for the sheer reaction they get from their one of a kind shirts.
A great item that seems to have this collector appeal is vintage belt buckles.  It was back in the beginning of the 1900s that these buckles became popular.  They are usually made of pewter and are engraved with images of gauchos of Mexico, Spanish sceneries, scientific bugs, butterflies and women of the South Pacific. These belt buckles hold a romantic history and wearing them will surely conjure a certain air of uniqueness that makes anyone feel special.
Original vintage belt buckles can be quite pricey to wear for a night on the town  But don't fret… there are plenty of great replicas that will serve the purpose fine. Relicas can give a wide selection of designs-from old Mexico flair to Japanese art. Others also accept made-to-order purchases.  This allows you to create your own unique belt buckle design from a print photo or computer image.
Even stores such as Amazon offer a great selection of belt buckles from the top replica companies across the web.
I would try to find buckles that match your unique style… for guys going for the rugged look you would be better off with a gaucho style buckle.  If your image is a little more modern and techy, than you can go with a more creative buckle.