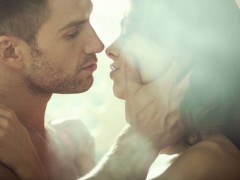 Carnal knowledge.  Knocking boots.  Doing the horizontal mambo. Makin' whoopee.  Laying pipe.  Hooking up.  A bit of the old in-and-out.  Sex.  Everybody's doin' it, but is everybody doin' it well?  I'm here to help you out, in a new weekly column.  Like Dear Abby, if Abby had a glass of Cabernet and stilettos.
I like sex.  Thinking about it, talking about it… doing it.  I kissed my first boy when I was 13 and never looked back.  I've had serious relationships.  I've had one-night stands.  I've had mind-blowing marathons.  I've had quickies.  I've had funny sex and awesome sex and weird sex and awful sex.  Sex should be one of the most glorious things a person does.
That's what Carnal Knowledge hopes to accomplish.  Weekly advice on anything and everything that tickles the readers' fancy.  From spicing up the sex in a long-term relationship to picking up a girl without her yelling, "I NEED AN ADULT," I will cover all kinds of things here. Do you have something you've always wondered about but were afraid to ask?  Do you want run an idea by a woman before you run it by the woman? Do you just want to hear a woman's thoughts on threesomes? This is the place for you.
To get the ball rolling, I'd like to offer up some quick advice about how to spice up a relationship: pornography.  Pornography gets such a bad rap.  It's treated like some dirty little secret a man has to hide from his partner. But I've found that almost nothing gets me riled up more than a little porn as foreplay.  If you think this is something you'd like to try with your partner, here are a few tips:
Start slow.  If it's her first time, much like sex itself, you gotta ease her into it. Don't just throw your massive collection of bukkake porn down on the coffee table and see what she says. Find out what turns her on, and then pick the porn accordingly.
A good thing to investigate is Erotica.  It's like Porn Lite.  It tends to be more sensual than wham-bam.  I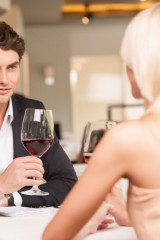 know, I know… it's not what turns you on. That's not the point. You're trying to get her interested in porn.  My favorite example is Meet Heather.  It's all-girl, so it may not be her thing right at the start, but it's softer, more sensual porn and that's what you're looking for.
Again, even with soft-core or Erotica, you can't just spring it on her and hope she likes it.  Do not just surprise her by popping it in some night while she's trying to watch Law & Order.  (For the record, that also applies to anal sex.)
Casually suggest that you think it might be really sensual or intimate to watch some erotic movies together Don't call it porn.  That makes it seem less "sexy" and more "swiping something from Dad's stash."  Let her pick something out at the video store or online. This way it's an activity you two are sharing and she has some ownership of the process.This will also give you a great idea of what she's interested in, once you graduate to the real stuff.
Be sure to let her know how hot it is that she's even open to the idea. Maybe the first time she chickens out.  Reassure her that that's okay.
Maybe it turns out she doesn't want to have sex after watching a little of it because she's embarrassed at being turned on.  Don't laugh at her.  Pornography is something that, by and large, girls are brought up to think is yucky and inappropriate and something only boys should be interested in, so it might be embarrassing for her to admit that it turns her on.
Also, make sure to tell her how turned you are watching her watch it.  It isn't only about the porn itself, buckaroo.  What makes the experience hot is watching it together.  If she feels like you are totally engrossed in the video, turned on solely by what is happening onscreen, that will leave her feeling left out.  Hell, I enjoy pornography and even I would be like, "Hello? I'm here too.  Sexy real live girl here who wants to do naughty things to you!"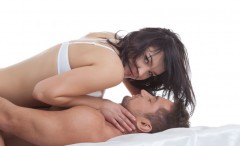 So take it slow and make sure it is a partnership activity.  Once you've eased her in with some soft-core or Erotica videos, she'll be curious as to what else is out there.  But again, don't go jumping the gun and busting out your DVD of Itty Bitty Gang Bang.  The more comfortable she becomes, the more comfortable she'll feel admitting that she enjoys something more off-the-wall, but it has to come out on her timetable.
If you can use the pornography as foreplay, the sex will be hot.  Guaranteed.  You'll have her browsing your porn collection or ordering her own in no time.
For next week's column, I'd like to start answering reader questions. If you have any questions or comments you'd like to submit, email clairesebastian@gmail.com. Questions can be as anonymous as you'd like them to be.  See you next week, kids.