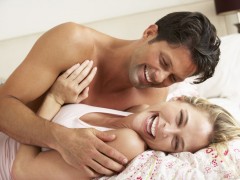 Its funny because I was discussing Marianne Williamson with a friend of mine recently.  I was telling him how I thougtht she was a great speaker, but she really didn't resonate with me.  Then today, I'm at the gym, with my Ipod on shuffle, and a chapter from her audio CD The Gift of Change comes on, and suddenly I begam to really get the point of the program.
Williamson is referring to the idea of changing to a more spiritually enlightened person.  She talks about "the inbetween time" where you are no longer the person that you used to be, but not quite the person you are destined to become.  She likens this is to taking off your old worn out clothes, and standing naked for a minute before your new clothes arrive.
I think this is a great analogy that can relate to any area of your life.  Too many of us are scared to stand naked for a moment.  Instead we would rather cling to wearing our old worn out clothes… rather than risk the temporary uncomfortableness of change.
The fact is, if we are going to improve our dating life, our financial life, our social life, or spiritual life, there is going to be that point of time where we feel naked.  We will lose some of our old habits, our old friends, our old past times, and old lovers.  For a time we may feel like we have nothing.  It may seem tempting to go back to our old ways.  To be an ignorant AFC.  To hang out with the townies.  To take comfort in an ex girlfriend.
Or we take the alternate, just as haphazard route, of jumping into the first pair of new clothes we find.  Instead of waiting for what we really want or were meant for, we so badly want to ease our discomfort that we rush into something blindly.
Instead, try standing naked for a moment.  Be completely comfortable with the fact that you don't know exactly how this is going to turn out.  You are emotionally naked in front of the world.  Shed your old clothes, and wait patiently for your new clothes to arrive.