Sticky Situations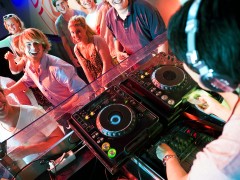 At one time or another, we will all go through several, if not all of these awkward situations.  Like many things in life, the key is being able to bounce back.  The following is a list of common awkward dilemmas you might find yourself in very soon.
The girl you really want to talk to is standing next to the other girl you really want to talk to
This can be tough.  The thought here is that talking to Girl A will make Girl B think youre a player.  So, how to talk to one without pissing off the other?  While talking to Girl A, glance over at Girl B.  Make sure Girl A doesnt see you and Girl B does.  Quickly smile and/or look Girl B up and down.  She will love the fact that even when you talk to other girls, youre still interested in her.  And by talking to Girl A, youre showing Girl B that youre desirable and other girls are interested.

The hott girl saw you pick your nose, or with your fly down, or with food in your teeth
You usually wont find out about this embarrassment until well after it occurs.  But if you realize it quickly, take steps immediately.  You should try to establish contact as soon as possible.  Say this to her I noticed you were staring at me so I figured Id give you something to look at.  Whether she believes this or not, her focus will go from whatever you did to your funny attitude.  Then, keep the flirting coming and shell forget all about it.  In the worst case scenario, itll be joke between the two of you in the future.

Its closing time and the girl you want is still talking to other guys
If youve met this girl before, simply go up and say goodbye.  Be polite and dont look pissed off that you didnt get to talk to her.  If you havent met her before, now could be the perfect time for that trick we only see in the movies.  Go up to her and say Sorry hunnie my friend wouldnt shut up. Then introduce yourself to the guy and shake his hand.  This is only effective if she wants out of her current convo, so read her body language. If you pull this off and she digs it, youre in.
She saw you throw up
Girls dont like guys who cant hold their liquor.  Its a huge turn off.  It signals that you're either a wuss who doesn't drink often or a jerk who does this all the time.  If you're lucky, she'll rub your back and help nurse you back to health.  But it's more common that she'll say ew, grossand walk away. You have to be mellow for the rest of that night.  Lay low, relax, and make light of it.  If she doesn't see you for the rest of the night, it's not the end of the world.  The next time you see her, reassure her that it doesn't happen often.  Say something like, I don't know what happened that night, and laugh with her.  Never, ever try to be the crazy party guy.  After she sees you puke, the last thing you want to do is yell Puking rally!  Give me a beer!
Your gfs crazy ex is watching you
I hate these guys.  If you're girl left you, then you screwed up big guy.  Making the next guys life hell is as cowardly as it gets.  But it's likely you'll come across these guys.  The key is to not provoke, don't smile at them or give them any reason to screw with you.  Usually you can ignore these pricks and they'll back off.  But if they do something to make you and your girl uncomfortable, you have to take action.  Walk up to him and say Are we going to have a problem here dude?  Nine times out of ten he'll be a wise ass and say no, we're good. Most potential fights can be defused if you talk normally and show him you have no interest in throwing down.  You could say something like, Man, what's going to happen if we fight?  Either I end up bloody or you do.  And then we're right back here again.  Like whats the point.  Bone up on some moves, though, in case it comes to blows.
Stuff like this happens, and if you want to stay in the game, you have to know how to deal with it.  Don't get flustered, remain confident and stay the course.  Be able to laugh at yourself and stay positive.  After wards, she might like you even more.