Yours Free- 85 tested, proven to work opening lines
I would like to invite you to join our free membership. We offer our members the most insightful information on how to grow your game, master your social skills, and keep you up to date with the latest news and releases in the dating and self improvement industry. We wanted to create a way to reward our loyal readers and this is it. The information you receive as a member you will not be able to find anywhere else online.
As A Free Member You Will Receive
1. Break Through Openers ebook (emailed to you immediately)
This huge collection of over 83 openers and pickup lines was created from four years of collecting and recording the best openers we've come across and heard during our time in the industry. The ebook contains openers from some of most well known pua's like Cajun, Mystery, Juggler, Afc Adam, Tenmagnet, Badboy, Gambler, Mystery, and many more… including some of the our very own openers that we've had tremendous success with. This book will provide you with over 83 tested and proven openers that will make initiating conversations with women easier and get you better results.
2. The Inner Game Workshop ebook (emailed)
This is the very workbook we created for our $1000 Mansformation Weekend Retreat. It is over 50 pages walking you step by step through a journey that will ultimately provide you with a solid foundation of inner game. This is not 50 pages of theory… this book was created with the intention of being a workshop with exercises to implement immediately. This workbook contains methods and techniques I learned through attending $3000 seminars and purchasing countless audio programs. This will not be available anywhere else… and is an exclusive gift to our members.
3. A Boat load of Other Free Books (emailed)
As part of your membership you will be receiving our King of the Jungle ebook which teaches you how to rule a social circle with ease. It will provide you with the insights you need to climb any social ladder, no matter how far down the totem pole you currently are. You will also receive Weapons of Mass Influence Brad Howard's 32 page report detailing the power of the halo effect, and how to use snap judgments as a platform for social domination. You will get a copy of the timeless classic Think and Grow Rich. This classic book is the most influential book of the 20th century in regards to wealth creation.
And many more free reports…
4. Exclusive Web Site Content
TSB Magazine releases content on the site available for our members only. This is content that we've chosen to block from the general population for a variety of reasons. Some of it might be too r-rated, some of it might be secret material we only want our members to know about, all of it will be great content that you don't want to miss out on.
Best of All it is Completely Free. So Please Join Us.
All girls want to be approached. All girls want to be talked to. And all girls want to be hit on.
It is human nature.
Then why do most guys find that the girls they are hitting on are either rude, indifferent, or just completely ignore their attempts?
It is simple.
Women want to be hit on in a way that demonstrates the man is socially intelligent.
A socially intelligent man will:
Begin a conversation in a way that is friendly and non threatening
Skillfully introduce topics that quickly build rapport
Talk in a way that shows that he is of high value
Never give the impression that he is trying to impress her
Never give the impression that he is intimated by her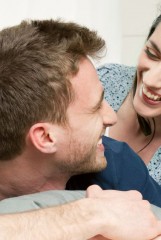 Most guys display an obvious lack of social awareness with the first words that come out of their mouth. Most men say something that put the woman on the spot, draw attention to the awkwardness of the situation, or force the woman to make an immediate decision as to whether or not he is right for her.
And when you force her to make that decision quickly, she is going to decline your offer 99% of the time.
Some of the WORST ways to initiate a conversation with a woman are:
To offer to buy her a drink
To make make a general compliment about her looks
Saying anything in a nervous, scared manner
Why do men lack courage with women?
One of the biggest reasons men lack the courage to hit on beautiful women is because they believe they need to win the woman over with the perfect pick up line. Men look at the interaction in black or white terms. Either she is going to say yes or she is going to say no. But the truth is, most women are going to simply say maybe.
The socially intelligent man knows this.
What the socially intelligent man also knows is that he should approach every woman with the same mindset of "maybe."
Maybe she is a cool, fun, attractive girl. Or maybe she is a dull, flaky bore.
There is only one way to find out:
To engage her in conversation that allows both of you to express yourselves as naturally as possible.
Watch how it can be done
[media id=296 width=500 height=400]
How to Engage her in Conversation
Your goal when approaching any woman or group of women is to simply disarm any objection they may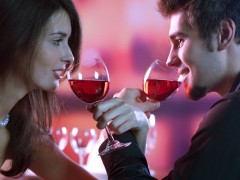 immediately have.
The easiest way to do this is begin the conversation with a question or statement that has nothing to do with the present dynamic. Instead of acknowledging the fact that you are hitting on her, simply say "Me and my friend are having an arguement… Is it gay for two guys to go on a cruise together?"
You are simply a guy asking an innocent question. But you are also opening up a conversation full of possibilities:
Have the girls ever been on a cruise?
What is a good vacation for two guys?
What types of vacations have they taken?
Any interesting stories to come from these vacations?
These are topics that make it very easy for the woman to put her guard down and open up to you. And once her guard is down, then you can move into the phase where you are actively building attraction.
As you interact with, do so in a relaxed laid back way. You want to give off a "take it or leave it" vibe. In the video above, did you notice how Alex never seemed extremely eager to continue the conversation? He let the conversation flow naturally, and never gave her the impression that she would be stuck talking to him… she was free to leave at any moment.
How to Never Run Out of Things to Say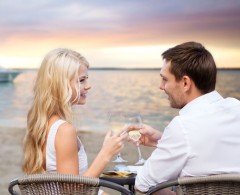 The reason most guys resort to cheesy pickup lines or buying her beers is because in the heat of the moment they just can't think of what to say.
Yes, it is common for the mind to go blank in the presence of a beautiful woman. This makes it near impossible to think of even the most innocent of questions to ask.
It is for this reason that it is often recommending by top dating coaches around the world to have a pocket full of "canned" openers ready to use at any moment.
A "canned" opener is just an ice breaker that you or someone else has already used to successfully initiate a conversation. Having a collection of these openers allows you the freedom to consistently have proven icebreakers that will allow you to seamlessly flow into conversation.
I have been studying and practicing the art of social interaction for a long time. And running this website on the subject has given me the privilege to interact with some of the greatest "pick up artists" in the world. And what I have learned is that they all take the guess work out of an interaction. They do this by only using material that is known to work.