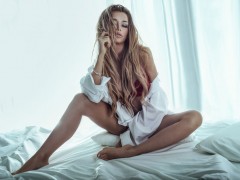 The Home Gym Essentials
In the past, I`ve seen so many failed home gyms. Guys who thought they`d build their own home gym, but can`t seem to figure out what to put in there. A lot of the time, they just throw in the biggest, most expensive gear they can find. Bad idea. I mean, sure, you can make a super-flashy gym with a load of heavy machines, but why use that when a $15 dollar pull-up bar would be just as effective? It seems like a bad investment to me. The pieces of equipment I personally find the most effective are those that target multiple muscles, instead of just isolating one. A good example of this would be barbell squat. Anyway, in this article, you`ll see which equipment to buy, without killing your wallet.
A Set of Dumbbells – $70
Ah, the good ol dumbbells. Even today, I still do the Bicep Curl, an exercise which has been seen as thestrong man thing to do, even since the early 60s. One of my favourite dumbbell exercises is the Dumbbell Push-Up with Rotation. It`s very difficult, but very rewarding, as it targets many different muscles. An absolute essential.
A Pull Up Bar – $15
Another essential in my eyes. Pull Ups work so many different muscle groups and a pull up bar costs less than a round of beers. And, there`s so many variations of the pull up. As well as the standard pull up, you could try a behind-the-neck variation, themuscle-up, the one-armor you could just wear a weight belt if want that extra oomph.
Exercise Ball – $15
Yet another cheap-but-effective piece of gym equipment, which is often the least used. Because of the instability of the exercise ball, you end up working more muscles during each exercise, which of course is good, because you`ll spend less time getting the muscles, and more time having them. Also, it works your core muscles like crazy, so you`ll feel a lot stronger too.
Barbell Bar – $30
Amazingly effective. The barbell squat is undoubtedly one of the best compound exercises, if not THE best. Working 9 Muscles at the same time, I know some guys that swear by the squat. You can do a lot of other exercises with the barbell bar too, such as the classic Bench Press. I know a lot of guys who swear by their Bench Presses too.
Dip Bar – $150
Yup, so it is pretty expensive in relation to the other pieces of equipment I`ve w rote about so far. However, the dip stations are actually the most underused piece of equipment in corporate gyms, to my surprise. It`s by far the best exercise to build your triceps up, which is essential if you build your biceps, and don`t want your arm to look deformed.
Stretch Mats – $15
I know, I know, it`s not exactly the most exciting piece of equipment on the list, but it`s extremely important if you want to avoid injury, and lift heavier weights. It`s also necessary to stretch if you plan to go jogging, or do some other type of cardio-intensive exercise.
Speed Skipping Rope – $10
A very basic piece of cardio kit, but it`s actually really useful as it gets your heart rate soaring, and really tests your co-ordination. And, if you`ve ever seen a boxer training, you`ll know that skipping makes you sweat like a dog, and is a fun way to do your cardio.
Punch Bag – $80
My favorite way of getting my morning cardio done. It get`s you sweating, it makes your heart rate go up, and also, it trains all the muscles you`ll ever need i f you ever get into a fight. Another nice little touch to having a punch bag, is stress removal. Nothing beats punching the daylights out of a punch bag after a terrible day at work (Except perhaps Eva Longoria waiting for you in bed naked).
Medicine Balls – $30
It`s a great piece of gear, that really helps in getting explosive power, which is essential if you play sports. It`s also one of the pieces of gear that can get you six pack abs cheaply, and effectively. Boxers use medicine balls by dropping them onto their abs, to get them harder.
And well, that about concludes the gear that I think is essential to home gyms. I tried to select affordable, effective gear, the kind of gear that is often overlooked in gyms. If you think I`ve missed any, leave me a comment with what you think is essential.
If you're new to bodybuilding I suggest go over and getting your Adonis Index and designing a workout around that number.