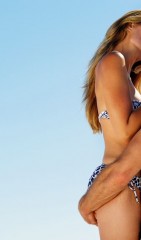 A few days ago I had a chat with Nick Savoy about his upcoming Relationship Management program. One of the topics we discussed was introducing a threesome into any sort of relationship. I'll be releasing the fun and informative interview this week… but I just wanted to briefly touch upon the idea of threesomes.
How I ruined a perfectly good threesome opportunity
I've already told the tale of my last threesome down in Fortaleza… but today I wanted to talk about one of those fantastic opportunities that we all blow when we don't know the right way to go about something.
Here is the back ground:
I had been dating this girl Kate for a little over four months. I met her through my friend Brian, who was dating her best friend Nicole. I was vastly more attracted to Nicole… a sexy dark skinned Italian girl. But Kate was fun, and the relationship was very casual, so I decided to enjoy it until it ran its course.
Brian dumped Nicole.
This put me in a perplexing situation because dating Kate was not nearly as fun without my wingman Brian there to keep things interesting. I decided that I had to end things with Kate very shortly.
Kate invited me as her date to her sister's wedding. So I vowed that I would attend the wedding, and then have the talk a few nights later. A funny thing happened at the wedding…that changed everything.
Nicole went to the wedding alone. She was still mending her broken heart. She proceeded to drink heavily. Kate also proceeded to drink heavily. About two hours into the wedding Kate and Nicole started kissing each other… a lot.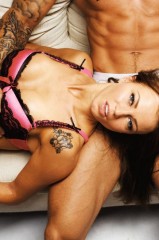 Kate had told me that her and Nicole sometimes "fool around" but I didn't really believe her. I've found all girls tell you those sort of things just to keep you interested. But now I was seeing it first hand. And it was turning me on immensely.
Later in the night, while drinking at the hotel bar, Nicole started coming onto me. She started rubbing my arm, and then held my hand tightly in hers. Then she said something magical:
"Why don't you, me, and Kate go up to the room and have some fun. I promise I won't tell Brian, if you won't."
I simply smiled at her, continued rubbing her body up and down, and then started kissing Kate again. I was not sure how Kate would feel about this, so I proceeded with caution.
What I should have done: I should have handed Nicole the key to our room, told her to go up there and warm the bed up, and then brought Kate up separately a few minutes later. This would have avoided the awkwardness of the long walk upstairs to the room.
What actually happened: I had no clue how to go about making the transition smoothly. I had never had threesome success within a committed relationship. So I stalled. While I was trying to map out a plan to make this happen… shit hit the fan. Yes, one of Kate's uncles caught her making out with Nicole in the bar. Kate freaked out. I spent the next hour trying to convince Kate that her uncle would not tell her father.
The Critical Mistake I Made Preventing the Opportunity from Repeating Itself
Like I said earlier, I was not aware of the right way to go about changing the dynamics of a committed relationship. I blew it that night by not being prepared to take action. But I could have easily have recovered and set up the threesome for a later date, if I had only known how to go about it correctly.
Instead I did everything horribly wrong. The next day, I began endlessly harping on the fact that she and Nicole were kissing the previous night. Instead of acting natural about it, I made it into an event. Then I proceeded to basically beg for another opportunity at the threesome.
Now, remember, I had planned to break up with Kate right after the wedding. But now, with threesome in sight, I wound up digging myself deeper into the relationship. I was getting closer and closer to Kate… and further and further from the threesome.
The biggest mistake that I made was turning "the threesome" into an event. I tried to organize threesome nights. I continually talked about "when can we do it." All this did was cement the fact that I would never have a threesome with Kate and Nicole.
And I didn't.
How to Have a Threesome
Introducing a threesome into a relationship, whether its a casual fling or a serious relationship, takes a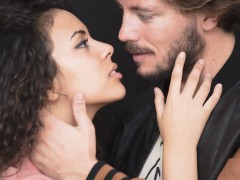 certain level of skill… but more importantly it takes a plan for achieving this. Most of us enter into a relationship on a whim. Because of this we fail to set up guidelines and a proper map of what we want to get out a relationship. These sort of things need to be set up right from the beginning.
Too many of us wind up in a the wrong kind of relationship. This is because we treat girls that we want to have a fling with the same way we treat girls we want to have a serious relationship with. This was the first mistake I made with Kate. I knew from the beginning I didn't want a serious relationship with her. If I had set the relationship up that way from the start, she would have been more likely to expose me to her wild bi-sexual side sooner.
The second mistake I made with Kate was not going with the flow of the moment. When you're in a semi-committed relationship with a woman, the only way a threesome is likely to happen is if it feels like it "just happened." You need to handle a threesome with the same skill and precision you used to seduce your girlfriend in the first place. If you ask your girlfriend how come she fell for you, she'll likely say "it just happened."
Well, we all know it never "just happens". There are certain things we as men have to do to make it just happen. The same can be said for making a threesome "just happen." There is a certain way you must go about.
If relationships and everything they entail interest you (and it should as you'll find yourself in one sooner or later) then you need to watch the Relationship Management DVDs.
I am predicting that this will be the most important product released in 2009. There has never been anything released like it.
Click on this link to learn how to set the frame for the relationship at the best time so you get what you want and avoid misunderstandings