Stimulate the Economy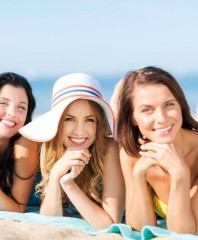 Have you been following politics? I'm addicted right now, to point where I'm watching CNN and MSNBC in the mornings instead of my usual sports fare. It must be the fact that the country is tittering on the brink of collapse and I have no idea if I'll be gainfully employed in three months that is doing.
It occurred to me while reading this article in the NY Times what a big deal the economic stimulus is, insane dollar amounts notwithstanding. Basically, the machinations of Congress will either save the country or crush it. And, it could happen in short order, like in say a week or less. If that doesn't make you want to drink, I don't know what will.
With that in mind, I thought I would make 5 suggestions on how you can do your part to stimulate the economy. Don't even wait for stimulus money to come in later in the year, take some disposable income and spend it this weekend. It's the patriotic thing to do.
5 Things to Spend Money on This Weekend
Get smashed. Clearly, this is your numero uno priority this weekend. Buy a couple bottles of your favorite liquor and pre-party. Then, go hit the bars Friday and Saturday. Spend your money. Don't be afraid to buy rounds for your buds. Yes, I even recommend buying drinks for random hot chicks. It's okay, this is the right time to do it. Be sure to hit the locally own establishments, as they are feeling the most pain.
Eat eat eat. Before and after drinking, eat some food. Again, hit the local joints. There's a great Italian place right down the street from where I live, so you can be sure I'll be sitting at the bar for dinner and drinks tonight. Remember, you're not just eating for the sake of consumption, you're pumping dollars into the service industry, which keeps people employed.
Buy electronics. If you can afford it, hit Best Buy and score that 60" badass television you've been eyeing. If you don't have the liquidity to drop a grand on consumer electronics (that includes me), at least buy an XBox or a BluRay player. Consider buying music on compact disc.
Clothes. Thinking about updating your wardrobe? Now is the time to do it. Find locally owned clothiers and buy the coolest stuff you can find. Shoes, shirts, jeans. If you can't find anything local, hit the mall and go crazy.
Hookers. Sex industry is getting nailed (oops, no pun intended) as customers turn to actually having sex with their girlfriends and wives. WTF!? Help out by blowing $300 on a cute working gal. My advice is find a young college chick trying to pay her bills and you're all set. Start with the Yellowpages, under "escorts," make some calls and put in a request…not that I've ever done that.
If any of the above aren't your cup of tea, consider buying books at a local store, fixing up your house with stuff from the hardware store, getting an oil change at the local shop, buying coffee from the local cafe, and any of a hundred other ways to stimulate the economy. Go forth, and spend!!
About Lance Lance is a tech geek by day, social artist and fitness enthusiast by night. He specializes in relationships in real life situations, such as workplace and in business, and his goal is to create high value social circles filled with opportunity. For more on his dating and relationship perspective, check out his blog honeyandlance.com