How to Theme Your Next College Party
Alright, alright, so we've all been to a lot of totally wild parties in our day, and probably our fare share of ones that fell horribly short on the old sexpectation scale. When you pack a hundred guys into one building and everyone is looking for a piece, things can get a little sticky and lets face it, there's usually at least one other guy there that can out-mack you any day.
Though a few bigger fish in the pond isn't really a big deal, there are obvious ways which you can bring the whole party down to the same level. Setting a party theme is a solid way to not only help your game, but also keep everybody interested.
Ugly Sweater Party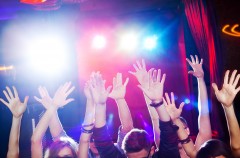 This is something kind of fun to do a few times throughout the winter months. Not only is it EXTREMELY easy to co-ordinate, it eliminates the dress aspect completely. Girls get right into dress-up style themes like this, so suddenly the guy that shows up decked out in the expensive threads doesn't seem so with it. This way, you don't have to worry about being out-dressed, cuz if some guy shows up wearing a hundred dollar shirt, he's going to look like a goof.
Toga's
A classic party theme everyone can jive to. Toga parties have been around since the time of our forefathers (probably) and they can be a lot of fun. This is another way to eliminate the dress factor, your look is decided solely on your creativity. Although this type of party is more difficult to co-ordinate (because not everyone likes to play along), there's nothing like a little drunken, half-naked partying.
Hotel Party
When done right, a good hotel party can be pretty similar to dorm hopping in a rez building. Get a bunch of people and a few credit cards, and you have yourself a maze of rooms to explore and abuse. Everyone gets a chance to meet a bunch of random people in a totally fresh environment. Plus, there's no disadvantage to having a bed in the middle of the room you're picking up in.
Masquerade
Again another type of dress-up where everyone gets to have a little fun with their costume. Girl's love to go hardcore at these things, it's a room full of playboy bunnies and sexy cops with masks. The other obvious advantage here is that you can pretend to be who-ever the hell you want. She isn't going to be able to pin you as a player, because she's going to think you're the nice guy you're masquerading around as.
Lingerie Party
I genuinely don't think I need to go into any detail about this at all. A room full of hot, half-naked, drunk girls. It's like fishing with dynamite. Honestly.
Growing up in a small town where there were more people in the hospital than there were in the high school meant we had to make our own fun. Party themes are one easy way to keep everyone entertained, and there are a lot of perks that can easily enhance your game.