College Props, Games, Books, and Other Must Have Items
Yesterday, our new columnist Nathan posted an article titled "How to Rock Your Dorm Room" in which he talked about how to get the party started inside your dorm.
This article got me thinking about my college days. I began to think just how useful it was to always have props, games, and random forms of entertainment lying around my dorm room and later frat house… because in college you never knew when the party would wind up there.
So I thought I would recommend seven books, games, and props to ignite the part.
7 Must Have Items

1. The Air Pong
Play beer pong whenever, wherever you felt that burning urge we all know so well. Float the table in the pool, use it in your dorm, on the beach, at a tailgate, or anywhere! Just inflate it, and you're good to go! The Air Pong table is designed to satisfy the most serious of beer pong enthusiasts. The table is packed with features to make your beer pong experience as good as it gets. (amazon)
2. Loaded Questions Board Game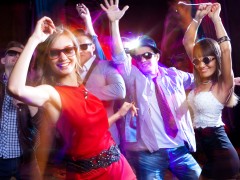 The Adult Version Loaded Questions Board Game tests general sex IQ and asks funny personal questions. It will reveal more about your fellow players than you say you want to know, but everyone knows you're lying. See how well you really know people. (amazon)
Extreme Funnel & 6 feet Tube Beer Bong Liven up the party!! And get girls loaded!
4. The Imbible: Guide to Drinking Games
This book contains all the drinking game classics, from Quarters to Kings, to today's newest, coolest, and most debauched drinking games, including Beer Roulette and The Lord of the Rings drinking game (every time a character draws a sword more slowly and cinematic than is pragmatic to do in the heat of the battle, drink). Containing original illustrations and more boob jokes than is necessary, this will truly be the bible of drinking games. (amazon)
5. Mortal Peril Electronic Drinking Game
Around and around it goes, where it stops nobody knows! A more exciting twist on the spin the bottle type drinking game, you just put two fingers on the silver pads, and the lights will flash on and off as the music pulses thump thump…thump thump. Then, watch as the red dot spins quickly around, and then slower and slower around the wheel of destiny until it stops on your fate. Will it be one shot, two shots, reverse, pass, or something else? (amazon)
6. WII
This is the one video game systems that women seem to love. its a great prop to have back in your dorm room for the late night rendezvous.
The most talked-about new novelty product of the year! De-FIB-ulator, the world's first hand-held Voice Lie Detector! PRICED RIGHT Teenagers acting suspiciously? Food disappearing from your fridge, and your roommate's evasive? De-FIB-ulator can help! The size of a cell phone, this portable push-button voice tension detector is sure to add a little fun, if not some certainty, to your life. (amazon)