In case I didn't mention it, I am from Atlantic City – born and raised.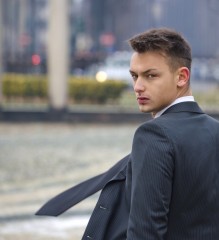 And I hate the casinos.
Why is this important?
Because for those of you who don't, I will reveal the proper attire for gambling spots such as my hometown and Las Vegas of course.
Last Sunday, I suggested to some friends that we visit the boardwalk of Atlantic City. I had no idea what I was going to be in for.
Needless to say, I didn't get home until 10:45 a.m. the next morning, and we didn't have a hotel room either.
You can imagine my disdain.
I brought a change of clothes because I knew that there would be a daytime activity, and a nightlife experience that would probably be uninteresting.
For my daytime outfit, I wore light washed jeans with a short sleeved button down shirt which I kept unbuttoned to show the graphic on my undershirt of Bob Marley – a personal hero of mine.
Unfortunately, my outfit only saw the inside of my friend's car because when we got to the city, it was dark, and we were all annoyed.
So I changed into my night look – a Bill Blass light blue shirt and a black polo, with a non-popped collar which I wore over the Blass shirt with dark washed jeans and a pair of slim black shoes.
My outfit was appropriate, but so many others were not.
My friend who is a girl –  but not my girlfriend, wore the perfect blue dress that accentuated all of her sexy attributes. It was the perfect outfit for any other city besides Atlantic City.
When walking between casinos and bars, my friend was cat called and looked at.
That's when she said, "I think they think I am a fucking hooker."
And they thought I was her pimp.
Did I look like a pimp?
I didn't think so, and if I did – what did they think of some of the other people that I saw in the casinos?
It's midnight and there we were sitting at a table observing first, before betting ourselves.
Someone shouted, "Five stay alive!" another person said, "Uptown! Uptown!" but the true crime came in their attire.
It's the spring – to some, that means it is time to take out the Hawaiian shirts and Bermuda shorts.
Let's get something straight, I hate anything Bermuda and Hawaiian where fashion is concerned – but that is another column for another time.
Anyway, they have no place in America's Favorite Playground (Atlantic City).
Then suddenly the cocktail waitress walked by, and we put in our orders. I myself was hoping to dull my fashionable senses to as to avoid the many crimes of fashion happening right in front of my face.