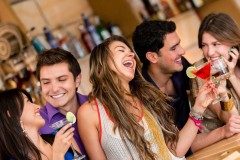 "I am 28 years old.  I didn't lose my virginity til I was 18.  I freaked out so much, due to my religious upbringing, that I didn't have sex with her again.  I have lived in USA, the UK and Japan.  I fell in love for the first time in Japan.  She slept with a ton of guys behind my back and I told her "it doesn't matter who you sleep with, I'll always love you."  I hope you are cringing right now!  The desire to never be that guy again is what fueled me when I read The Game.  I spent 4 nights a week minimum out training for 8 months.  I have been teaching in London since then and traveling the world meeting amazing guys.  My life is only beginning."
1.  How do you recommend guys improve their use of kino during seduction?
Guys need to think of kino as a form of communication.  Touch can be sensual or sexual.  Most guys always push for the sexual too soon or too late.  Use sensual touch to put you and the woman on the same wavelength.  When you are close and you can feel her breath you can get sexual.  Pulling on the back of her hair to bring her in for the kiss is money in the bank.  I can't recommend this move more.  It is a way to communicate that she is with a real man.
Think of touch as a form of communication.  Touch her to parallel what you are feeling.  Light attraction means light arm touches.  As you are feeling more of a sexual connection, match your body to your emotions.  Remember that women are sexual creatures and WANT to be seduced.
2.  What three openers have you had the most success with and why?
My best three openers are "Are you guys in line?"  "Are you guys ordering together"  "I really love your X, my sisters is a fashion designer in New York and when I see good fashion I have to say something."
The first two are great for me because they are neutral.  I can instantly see how a girl responds to inane questions.  I want to know if she is nice to strangers.  It also allows me to start a conversation in a really natural way.  I ask guys the same thing.  I can instantly get the girls to ask where I'm from and the conversation just flows.  I love using the bar.  Plus I love drinking and starting the conversation at the bar has gotten me a lot of free shots!
The last one is something I have just been honing down in the past few weeks.  It works really well because I only say it when I actually like what I'm complimenting.  And the rest of the sentence is true.  It gives me a chance to talk about my sister, who I think is awesome.  I have three sisters and I bring them up with almost every girl I hook up with.  It shows that I respect women and conveys something real and true about me.  If I can think about my sisters will hitting on girls it expresses that I'm a sound guy.

3.  Who have been some of your biggest mentors and why?
My biggest mentors!  What a tough question.  If you read my blog, you will see that I mention different guys that I am into all of the time.  As far as life, my biggest mentor is my father.  He was a natural with women and always really successful with women.  Yet when he married my mom he stuck with her.  He has shown that you can go from many women to monogamy and make it stick, for over 30 years now!
As far as game there are a couple of guys who have taken me under their wing in a major way.  One is Jamie Smart from Salad NLP.  He is a major coach over here and spends a lot of personal one on one time with me.  I am really lucky to be friends with him.  The same is true for LondonSoul and Mr M from LoveSystems.  Without their friendship, I wouldn't be where I am today.  I learned from these three guys because they spent time with me and showed me what was possible without demanding anything in return.  There are a ton more as well….
4.  Do you have any tips for guys looking to better develop their sense of humor?
I am actually working really hard on a full length book on how to be funny.  The first tip is the premise of my whole book.  Anyone can be funny.  If someone tells you that you are not funny, ignore them.  After that, actively work on developing your personal sense of humor.  Try out every joke you think is funny on new people.  If you grind through the failures, you WILL get funnier.
Also, find a comedian you really like.  Try to find a 2nd tier comedian who isn't that famous.  Think about why you like their style of humor and what it is that you like.  Do you like political jokes?  Sex jokes?  Movie jokes?  You can always just quote Family Guy to get by at first.
Finally, don't try to make other people laugh.  Try to make yourself laugh.  It's what I do.
5.  What kind of practice routine do you recommend for guys just starting out?
f you are just starting out in game or learning to meet women, there are a couple of things you should really do.  First of all, spend as little time reading about women as possible.  It is so tempting to read a ton of articles on meeting women and techniques.  I specifically designed my book to be a quick read.  Part of that is information overload.  I read way too much when I started and I kept trying to remember what to say.  Instead go out and trust yourself.  You have conversations every day right now.
Don't worry about failure.  The first 2000 interactions don't count.  Treat every failure as a learning step.  I have failed with thousands of women.  But each interaction was special for me.  It helped me to grow.
Surround yourself with people who are on the same path as you.  If you have friends who don't want you to improve your life, spend some time away from them.  Especially when you are out meeting women.  You don't have to end friendships, just allocate time.
Finally, go out and find some wingmen.  I posted on fifteen different forums to find guys near the small town in the UK where I learned game.  I met some amazing guys that way and each one of them taught me something new.  We wanted to change our lives, so we encouraged each other.
Lastly, stick to one methodology at first.  Whatever system you start with, stick with it for at least two months.  It takes that long to really try it out.  Also, you won't keep mixing up ideas.  Once you have a foundation system, you can build on top of it.
Please feel free to email me directly with questions.  I love answering every email I get!
You can also check out Paladin's book Organic Seduction.