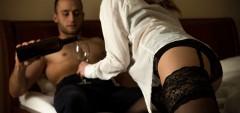 I am one of those rare breed of men that thinks that any kind of shopping is fun. And I've always felt that way.
But shopping for health food was a different story.
What was healthy? How do I read the nutrition facts? What if there are no nutrition facts?
As I walked through the Shop Rite, so ambitious and encouraged, slowly that ambition turned to cynicism, and then the cynicism turned into resentment.
I was assed out, and all I had in my cart were a bunch of Smart Waters.
And the only reason I decided to buy them, were because Jennifer Aniston endorses the product – and I can't help but to think that she is one of the sexiest women over-40, I can think of.
But that is neither here nor there.
It occurred to me, after passing in and out of each aisle, that I had no idea of what the hell I was doing.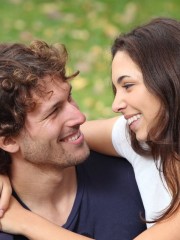 And I hate that feeling.
"Okay James. Focus," I said to myself.
So I went to the frozen foods section. Then I saw it… Healthy Choice.
Dude Score!
And the best part – they dumbed it down just for remedial health people like me, it said plainly on the box, healthy choice.
I thought, "Hell. What better choice could there be, other than the healthy one?
Also according to the several Google searches that I conducted, canned goods are always good to have on hand as long as they are low in sodium – though they do warn that we should stay away from spaghetti and pasta dishes in cans.
I was learning a few things, but I craved more information – sort of like the cravings that I have late at night for food.
According to Bob Harner in his book, Are you Ready, "In order to lose weight, you will need to create a deficit between what you are eating and using."
That all sounded good, but how do I know what that deficit is?
So I calculated my Basal Metabolic Rate (BMR). Then, I multiplied it by 1.2, which according to bmi-calculator.net is the minimum for exercise and active individuals. I came up with the amount of calories that I need to maintain my current weight. To create a deficit, I took a number of calories from the original number. Any deficit over 1000 is not healthy according to bmi-calculator.net.
I finally have a goal. And if implemented correctly, I should be able to lose one pound each week.
We'll see.
Signed,
Fat Columnist.