When most guys set out to improve their interactions with women they immediately begin researching pickup lines.
And while good opening lines have their place in a conversation, there are other elements that will improve your chances of drawing a woman into your conversation that are much more powerful than a couple clever lines.
In fact, guys who place too much emphasis on coming up with a clever opener, usually wind up falling flat on their face a few minutes into the conversation when the initial conversational thread dies out.
Other guys assume that everything has to do with how "cool" and "alpha" you appear to a woman. The problem that arises here is that many men become so focused on portraying "alpha" body language that they wind up appearing stiff and unnatural.
They also find that their desire to come off as "cool" makes them really just come off as cold or boring.
The "cool" factor should really come from being calm and sure of yourself.? That "cool" feeling comes from speaking in a relaxed fashion, but giving the impression that there IS more, that there is a "fire" beneath the surface. That's the "allure". That's what women like, and what people like in general.
The coolest people are the ones that are fun to talk to and fun to be with.
I've been passing along a little slogan that has helped me when I was in a social situation and wasn't quite sure how to draw women into my conversation… I would just ask myself "What would Tommy Lee do?" If you aren't familiar with Tommy Lee just go to Youtube and watch some videos of him and you'll begin to get a better understanding of what I mean.
What Draws Women In?
Your Voice
One of the biggest tools that you have for drawing women into your conversations is your voice.? Your tone of voice really conveys a lot about who you are, how calm you are, how interesting you are, and says a lot about you.
Your tone of voice is so important because it allows you to convey comfort, and demonstrate that sense of the all powerful relaxed confidence.? It also allows you to express some energy and excitement at different times, especially when it is appropriate to the situation.
There are many articles and books on improving your voice tonality, but the common fundamental seems to be speaking from your chest rather than your nose or mouth.? Take a moment right now to test this out… grab some reading material and begin reading it out loud.? However, focus on generating the sound from deep within your chest.? Relax.? Sound relaxed.? See how relaxed this makes you feel and how relaxed you need to be to do this.
Over the next few days when speaking to anyone, make a note to yourself as to how you are speaking, and where you are speaking from (your nose, mouth, or chest). Also, make note of how you felt (nervous, comfortable, and relaxed-confident).
The Flow of Your Conversation
Another way to better engage a woman in your conversations is to let them flow better through the use of pacing and pausing.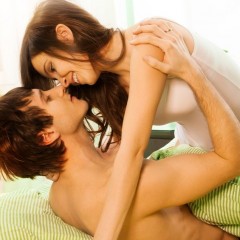 This is important because correct pacing and speed of delivery conveys comfort and shows that you are relaxed. If you have a habit of speaking too quickly you are probably demonstrating tension and even a sense of panic.? Being able to vary your pacing and pausing can help a lot to convey a sense of intrigue and create interest.
For the next few days, start to focus on changing your pacing and pausing, to convey a more relaxed and deliberate manner.? Use variations in pace, and well-placed pauses, to convey a sense of drama and intrigue in what you are saying in a way that "captivates" people and makes them want to listen to you.
Energy and Enthusiasm of Your Conversation
When I use my "What would Tommy Lee do?" motto it usually relates to the energy and enthusiasm he bring to all of his interactions.? No matter what he is doing, you get the sense that he is having a hell of a good time doing it.
Most guys are just TOO BORING. It's good to have the ability and range to display passion, enthusiasm, energy, and excitement when appropriate.
If someone else is being interesting, YOU can show an appropriate amount of energy and enthusiasm.? This also allows YOU to convey how interesting someone ELSE is as well. When someone else is being boring, YOU act boring, or bored. By doing this, you get stuck in fewer boring, dead-end conversations.? If they do or say something that is interesting to YOU, then you can show more enthusiasm.
For the next few conversations you have with women where you ARE interested in the subject, go ahead and SHOW your enthusiasm! Be energetic in how you speak, how you listen, and how your respond.
Go ahead and start using energy and enthusiasm when speaking so that women can become energized and enthusiastic about listening to and being with you.
Other Elements of Drawing Women Into Your Conversations
In addition to methods listed above for making your conversations more appealing to women, one of the biggest skills that you can learn is the art of storytelling.
Men who can tell a good story will generally always have a crowd of eager women waiting to hear what they have to say next.
Becoming a good story teller is just a matter of practice.? The first thing that you need to do is take notes throughout your life of stories that are worth retelling.? When something happens, write it down.? And later, practice telling the story out loud.
Do you remember the scene is Reservoir Dogs where Mr. Orange is practicing his story?? You need to bring the same commitment to perfecting a few good stories.? By having a few "go to" stories you will feel more confident within conversations, and you will also better develop your skill to do "on the spot" storytelling.
When I think of the "What would Tommy Lee do?" motto I also think about his ability to keep things on a light and fun level.
It is not necessary to be the funniest guy in the room.? It is necessary to be the most fun and engaging.? You don't need to be the guy that has everybody constantly laughing… but you should strive to be the guy who constantly has a smile on everyone's face and always tends to bring out other people's playful and silly side.
If you can do this, you will have no problem drawing women into your conversations.
>>>>For more on creating fun, playful ?small talk? with women, WATCH THIS.