Best Weekend Reading From Around the Web

Photo by speedyeSome quick house keeping:  Follow us on Twitter.   Show some support- Buy the Best of TSB Magazine. And sign up for our free membership… I'll send you cool shit!
Best Weekend Reading
Sinn teaches us to tell if a girl is giving us a polite response or really attracted to us (sinns of attraction)
Savoy spills some more secrets about his appearance on the Tyra Banks show (the real Savoy)

7 Lies that Romantic comedies tell you about dating an women (Made Man)
Don Chavez explains the truth behind the recent Erin Andrews naked hotel video (Don Chavez)
Entropy explains why you should always be closing on a first date (Entropy Pua)
The Bachelor Guys riffs on the manly ritual of the liquid lunch (the bachelor guy)
Harry Potter's Emma Watson is one hot piece of ass (Just a Guy Thing)
Speaking of Emma Watson:  Check out the Emma Watson upskirt see through pantie pics (TSB Mag)
The second coming of the Adonis Effect Program has been released (the Adonis Effect)
How to gamble on football… (chris illuminati)
AFC Adam Lyons update bootcamp schedule (tsb mag)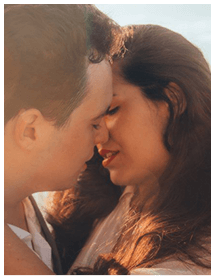 Simple Trick Tells You if a Girl Wants You to Kiss Her
Do girls leave you confused as to whether or not they like you?

Let's face it. Girl's don't make it easy for you. She will often send mixed signals leaving you unable to tell if she is being friendly or flirty. If you read her signals wrong you risk rejection and embarrassment. Or worse, you blow it with a girl who wanted to kiss you.
Here is a simple and innocent move that will instantly tell you if you're in the friend zone, or if she's waiting for you to kiss her.

We respect your email privacy
About Bobby Rio I'm Bobby Rio, one of the founders of TSB. I tend to write about what is on my mind so you'll find a mix of self development, social dynamics and dating articles/experiences.  For a collection of some of my favorite articles check them out.