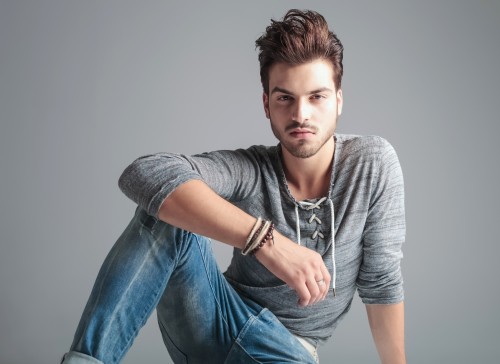 This season is nearing its close and nothing is more important in fashion than what is next. In menswear the trends and designs are key – we aren't going to buy anything that we don't think looks good on us.
Here are my list of labels to look out for the next season – getting an up on what's hot can never be a bad thing.
1. dSquared2
Here's the thing about dsquared2 – their looks always translate well on regular people. I have personally never wanted to look like any of the creepy men on the runways. Something has never seemed right with any of them if you ask me. Just the same, dsquared2 does a good job of dressing the models in everyday wears. That is the best thing about dsquared2 – their clothing is quite wearable.
A lot of times, you get style without wearability, or wearability without style. I hate that. It is either one or the other. With dsquared2, we don't have to worry about that. The design team does a great job of bringing together the two very important elements to create ideal ready to wear that can be ready to wear more than once – and for any occasion.
2. Eddie Bauer
Eddie Bauer has been around forever. Okay, forever might be an exaggeration. But I think it is safe to say that they have made a name for themselves in the menswear stratosphere. That's no lie – still, their most recent collections have become doubty and too similar to everything else that they do. I think that in menswear, it is most important to always be up on the newest trends and styles. With their last collection and rumors of their newest collection, they will not disappoint.
Eddie Bauer made this list because of their presence in menswear. They are great at creating basic clothing for the everyday man. Sometimes, it is more fashionable to have the basic pullover for the day with dark wash jeans – both of which can be picked up at Eddie Bauer.
3. Banana Republic
I always shop at Banana Republic because their clothes are affordable and perfect for my line of work. If any guy finds himself in a situation like my own where you are constantly covering this and covering that, not to mention going to more than the occasional industry party or friend's book release, Banana Republic is a great source for fashion at cost.
Long considered the high-end store in the Gap and Old Navy crew, Banana Republic is great for the stylish professional man. The fitted shirts, ties and pants make great nighttime pieces that every guy should invest in.
4. Armani Exchange
I have a friend who wears nothing but Armani Exchange. He is not a model, nor does he work at any of their stores – he just likes Armani Exchange. I like it as much as the next guy, but not enough to wear it everyday. Armani Exchange made my list because they are great accentors. An accentor is that perfect piece that compliments any particular look that a man is wearing.
5. Guess
Guess is a young brand. That's not to say that they haven't been around long enough. I am referring to their style. Guess for men cater to the 16 – 28 age bracket. I think that men that don't fit in this bracket can still find the occasional fashionable gem amidst a store filled with acne and hormone-filled kids. I guess we were all them at one point – though I will never admit it.
Guess has a direction that it has never strayed away from in its entire existence. Whenever I walk into a Guess store, I know exactly what I need to expect – and I am never surprised. That doesn't mean that I am ever disappointed.
6. J. Crew
J. Crew is classic. What I like most about them is that they pay very close attention to men in their consideration of menswear. They are very good at playing to our strengths and weaknesses as living mannequins.
Their style is very clean, not complicated, and can be dressed down or up – a great addition to any man's closet.
This fall promises to be a great season for menswear despite the economy. Here's hoping…