Best Weekend Reading From Around the Web

Photo by Orin OptiglotYou know the drill…  sign up for our free membership.  Buy our shit.  And text TSBMAG to 32075 so we can send you free stuff.
Best Weekend Reading
Is Your Bachelor Pad Ready For the Ladies: Just a Guy Thing
AFC Adam Lyons new video on Social Circle game: Pua Training
Lindsay Lohan is busting out the side boob: Celebridiot
7 Ways to Create Sexual Chemistry with Women: Winggirl Method
We can always count on Gina Carano to look hot in public: Cage Potato
9 Lessons to Achieve From a Crazy Man: Zen Habits
Pulling a Vicky Christina Barcelona: G Manifesto
Needy Girls vs. Confident Girls: Roosh V
Monkeys Make Porn on Tourist's Car: Don Chavez
30 Useful Websites You Probably Didn't No About: Dumb Little Man
When Should You Call a Girl?: Social Masters
Nicole Nieuman is the Hotness of the Day: Wii Hotties
How to Keep the Conversation Going: David Wygant
317 Drunk Girls Kissing: Coed Magazine
Sexy Lake Bell Pool Pictures: Totally Crap
Average Marijuana Prices Around the World: Hail Mary Jame
10 Surefire Ways to Predict Winner of Boxing Match or Bar Fight: The Bachelor Guy
Pick Your Path and Take it To the Max: Honey and Lance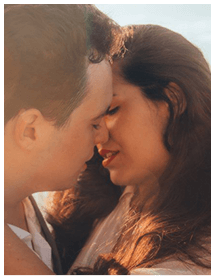 Simple Trick Tells You if a Girl Wants You to Kiss Her
Do girls leave you confused as to whether or not they like you?

Let's face it. Girl's don't make it easy for you. She will often send mixed signals leaving you unable to tell if she is being friendly or flirty. If you read her signals wrong you risk rejection and embarrassment. Or worse, you blow it with a girl who wanted to kiss you.
Here is a simple and innocent move that will instantly tell you if you're in the friend zone, or if she's waiting for you to kiss her.

We respect your email privacy
About Bobby Rio I'm Bobby Rio, one of the founders of TSB. I tend to write about what is on my mind so you'll find a mix of self development, social dynamics and dating articles/experiences.  For a collection of some of my favorite articles check them out.