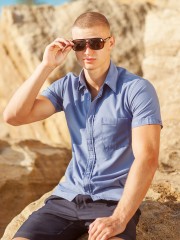 I've never been a bar kind of guy. What can I say? I have much better preferred clubs.
Nothing is worse than a tight room full of people with false realities. I'll tell you one thing – the comedown is a bitch! Still if you have to be at a bar, why not dress the part?
I on the other hand, didn't want to dress the part – because I didn't want to be there. Unfortunately, my best friend did and somehow, against my better judgment, I found myself there. If that wasn't bad enough, I was at a bar in South Jersey. That meant imitation gators, slim jeans and popped collars galore.
What had I done to deserve such an unfashionable fate?
Walking into the club, I am immediately met with a girl who says, "dude, I love your shoes. Did you get them at Saks?"
And for reasons that I still do not understand, I answered her and said, "No, Footlocker." It is a big pet peeve of mine for people to call sneakers shoes and vice versa. There is a huge difference, but I guess that is a column for another time.
Still, I was trying to be nice and when I walked by, she grabbed me right in the crouch! I was a little outraged, and more than a little turned on. But I knew that I would never see her again, so I retreated to the open balcony.
There, I saw men and women aimlessly walking by. It was now after 1 a.m. so people were at their absolute drunkest. People were walking around topless and drenching themselves in liquor. The worst part about that was that none of those people were women.
It was at the bar, with my mental notebook that I began taking notes for what would later become this column.
Bar wear is a concept that I never took that seriously – probably because I hate bars. Just the same, bar wear is something that cannot be taken lightly. Bars are places, but they are also experiences.
Nothing is better in an experience, or bar experience – than comfort and style. Looking at ease while looking your best should always be taken into consideration.
Here is what generally happens:
You decide to go to the club with one or two people (Your girlfriend, or your buddies – we count your buddies as one entity)
If you go out with your girlfriend, she will probably decide what you will be wearing. That night, I saw a lot of guys with their girls. Generally, a girl will dress you with the same kind of concentration that she puts into her own outfit. She will be looking good and she wants to make sure you do too.
The thing is – her style may not translate that well on you. This often looks like, men with jewelry, shirts with crazy patterns, pointy flashy shoes, sunglasses and spiked hair. And at the end of the night – your feet hurt worse than hers.