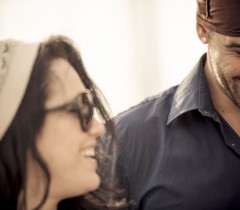 I can tell how she leans her body into me – even as I angle myself behind her to guide her hands around the pool stick – that she's smiling. The bar is smoky and humid, yet her oil-black hair smells fruity, girly, and fresh. If I'm this turned on at 10 p.m., I wonder how it's going to be later when we're naked.
She snaps her shot, sending the cue ball weakly dribbling forward. I snicker as I lift a pint glass to my lips, studying this dark-eyed beauty. Her heritage is from a country in South America notorious for hot-tempered, gorgeous women. And she came fully equipped. Hourglass curves. Tantalizing cleavage. Almond eyes with lashes so dark they're a shade blacker than black. Silky, wild hair. And a breathy Latina accent. The type of girl that doesn't just turn heads, but twists bodies. Doesn't simply stop traffic, but causes accidents.
I'm content to sit back for a moment to observe this golden-skinned goddess in the familiar setting of my favorite local dive bar. Here's a woman who's been courted by rock stars, by celebrities. A woman who's been lavished by moguls who've spent more money to decorate an hour of her time than I probably earn in a year. And here she is, feigning interest in a pool game and enjoying cheap drinks with me. Just the two of us, oblivious to the bar full of swooning heads and grumbling haters, whom I know angrily wonder why I deserve this girl.
Why do I deserve this girl? Why wasn't I halted by the familiar counsel, warning "She's out of your league, dude." Surely such cautious observance to the metaphorical league hierarchy had deterred and dissuaded countless men before me from ever approaching this specimen of feminine beauty. So what separates me from those men? What permitted me to march up to her, have the balls to playfully flirt with her, then abruptly snag her number and convert it into a date on my terms?
Simple. Never once did I ask myself the question: Why do I deserve this girl? And, because of that, I deserve this girl. This girl and every girl like her.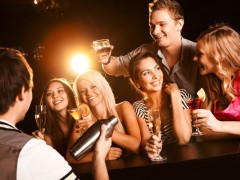 It had been many moons and many girls since I realized this simple, undeniable truth. I've sometimes wondered why it took so long for me to catch on. I saw it, and yet I didn't see it. Or rather, I was trained not to see it. Conned, perhaps, into believing otherwise. I was just like everyone else – I had the same anxiety, fear, and loathing as every man who's not currently in the ideal relationship with his ideal woman – which is just about every man.
I learned how to recognize these feelings – and quash them, permanently. In this moment, as my index fingers snake into the belt loops of her jeans, as I pull her hips against mine, as I crane my head forward, no fear exists. Only a pang of raw masculine excitement – truly a Zen moment.