Ah fashion week.
New York fashion week – specifically, Mercedes Benz Fashion Week is one of the most exciting times of the year. During this time fashion editors, designers, models, buyers and certified fashion junkies come together to see the latest in looks from the most elite of designers.
This season was no different, though there was a bitter sweet aroma in the air since this would be the last time that models would tread the runways under the iconic tents at Bryant Park.
Next season's collections will be moving to the Lincoln Center.
Nevertheless, designers brought their A-game and partied like it was 1955, literally! For the most part designers went back to a basic approach with their designs. Nothing was out of the ordinary under the tents – especially where menswear is concerned.
I have to say that my favorite collection was the Men's collection from Ralph Lauren.
Every look was masterfully constructed to not only show a perspective, but it showed a lifestyle. This was the first time that I could see myself in every look that came down the runway. It is more than obvious that the Ralph Lauren brand has a particular knack for creating ready to wear. What surprised me was that the collection was fresh, almost like a sweet breath of fresh air.
The designer kept with the basic suit, but each piece had a consistent yet different perspective. In other words – some looks were plain, and classic, others were classic yet contemporary, while different looks were classic with a hint of fantasy.
While the preppy influence is still evident in the collection, this time I can see others outside of the prep genre wearing a look from the Ralph Lauren collection.
Ralph Lauren celebrated the financially well-off man. Unfortunately, we cannot all be lumped into that category. Times are hard – and we are still in the middle of a very ill economy.
Michael Bastian's collection of ready to wear celebrated the everyday man – with style and justice. Bastian put together a great collection of looks that could be worn more than once.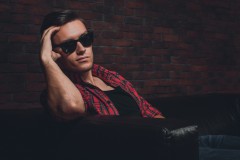 I am sorry – but I haven't gotten the luxury to wear something once and then throw it out. At least not yet.
Bastian's collection was fun without being too playful. He blended masculinity and edginess together very nicely without something that regular people wouldn't wear – and by regular people I am referring to anyone who is not in a Liberace tribute troupe.
Bastians's basic blazers and cut off shorts will translate very well on regular men. Vintage tees and knit cardigans only add to an impressive collection that truly embraces the term ready-to-wear.
If the buyers that attended these shows were on their game, I am sure that these collections will be hitting stores very soon. I can't wait – because even though the economy has put a serious damper on my shopping budget, I still consider good garments a solid investment with a profit-based return.
Remember – you are what you wear.