Most guys think that vintage is for girls. To those men I say, kiss my vintage ass.
Vintage is the best thing there is where fashion is concerned.
You don't believe me. Pull out some of those old movies – your favorite movies. I guarantee that the clothes worn in movies from the 80s and farther back could be worn today and still look good.
Here's the thing about vintage fashion – it could be anything. And you know what I say? The older the garment – the stronger the look.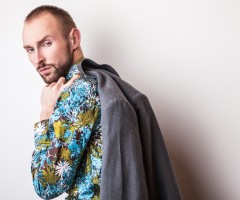 Go into your garage and look through that box of your grandfather's clothes and marvel at the vintage fashion potential. The best part: it is all free and authentic.
Some people wear things and will call it vintage, but be wise and don't believe the hype.
Vintage is more than old Chuck Taylors and graphic tees. Some things that have a vintage look do not always have to be vintage. After all, brands are borrowing from other decades all the time.
My favorite decade for fashion was the 50s. The beatniks were great people to mimic from a style perspective. I enjoyed their defiant style which was always just enough without being over the top as fashion from the 60s was sometimes.
I've been told by relatives that most men hate to shop and I refuse to believe it – maybe I am in denial.
If that is in fact true – the best thing about vintage fashion is that if you buy something and keep it long enough, it is vintage. If you haven't let yourself go – you might still be able to fit some of your clothes from high school. Depending on how old you are, it might be considered vintage.
That's a cheap way to look at it. And hey, I've been called cheap before – mostly by girls that I dated.
Where can you find good vintage buys: Thrift Shops, Farmer's Markets, and your father and his father's closet. Not to mention Uncle Anthony who is still unmarried.
We all have an Uncle Anthony.
The thing that people hate the most about vintage is that it is so hard to find. This doesn't always have to be true. If you look in the places that I suggest, finding a suitable alternative to high end boutique archives might be doable.
Take time to look. I know it seems like a hassle – and who has time nowadays for much of anything other than work? A legitimate question with an easy answer: vintage clothes last long, and they are always in style.
Fashion is subjective. But true style translates to everyone.