As the library of material related to picking up women expands, so does the collective creep factor of the men reading it. It's a sad fact that the advice and literature, while helpful and instructive, only makes some guys creepier, weirder, and more desperate. That's because some guys don't know how to process the information and put it into context. Most "sticking points" guys run into are merely inabilities to "normalize" the information they read back into their dating success. Ultimately, what a guy needs to realize is, regardless if he's a "natural," "PUA," "player," or whatever other label he wants to give himself, at the end of the day (or night) he's picking up girls.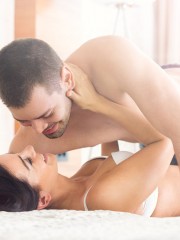 Wow, could that opening paragraph have come off any less condescendingly obvious? Probably not, but here's the thing – that advice is what most up-and-coming community dudes need to read. Again, I'm quick to point out in all my articles that my advice transcends methods, systems, theories, and gurus – it's simply the distilled truth on dating babes. Labels like "natural game" or "structured game" sound absurd to me. It's all just "game." It's all just meeting girls and enjoying social interactions. While the resources available to guys are respectable and valuable, there's no reason to venerate them like Holy Scripture. It's just pointers and advice on how to get girls.
With that understood, guys can start to see the truth on dating and picking up girls. Once guys realize what it's really about, they realize the girl comes first, theory second. What that means is guys stop talking AT the girl and start talking TO the girl. Understanding the difference between talking "at" someone and "to" someone is to understand how to vibe (which is at the core of picking up babes). Essentially, guys who talk AT girls are really just talking to themselves. Whether they are trying to gain validation from other people, practice their social skills, "field test" a theory, or get a girl because she's "hot," essentially these guys are talking to the girl as an object, not a person. It's a guy using a girl for his own selfish purposes.
Conversely, guys who talk WITH girls always have the ultimate goal at the forefront: connecting with girls that interest them. Regardless if they use preplanned lines or not, these guys listen to the girl, vibe with her energy and personality, and enjoy the moment for what it is: talking to a hot babe. While it's important to move the interaction forward, it's just as important to feel at ease and relaxed. How can a guy possibly feel relaxed if he's constantly worried he needs to be doing something? Because when a guy treats a girl like an object, he doesn't give her a chance to be human and actually like him. Instead, he feels he needs to talk at her constantly in order to get her to like him. And that's just creepy.
In the community, this is what's known as "over gaming." However, in my opinion, any type of "gaming" is "over gaming." Why should anyone ever feel the need to "game" anyone? What ever happened to people just going out and hooking up? If there's one thing that annoys me more than anything in "the community," it's how gurus and dating companies act as if they were the first to invent the idea of hooking up. It's as if one of the illustrious "gurus" holds the patent for putting a penis into a vagina. See through the bullshit – the community has some amazing resources, but don't let the marketing hype fool you. It's just hooking up with girls – a tradition as old as time (literally).
This idea is so simple that it's actually confusing. So to clarify, I'm not hating on studying pickup material. In fact, I encourage it. But read and study with a critical lens. More importantly, go out and interact with girls, treating them like the babes they are. She isn't a "target," a "set," a "warm up," or even a "HB." She's a girl who wants to meet a cool, fun guy. Have confidence knowing you are that cool, fun guy, plus you're armed with tips and pointers you learned from the community. By speaking to her as a person, you're letting her feel human emotions: attraction, nervousness, excitement, fun. You're letting yourself feel human emotions, as well. Down with the glorification of pickup as sport and up with the glorification of pick up as vibing with girls, like the old days – when picking up a girl simply meant picking up a girl.