Let?s be honest ? in this kind of economy, a lot of us are going on interview after interview for a job that we either want or need ? or both. That being said, we sometimes underestimate the power of looks. Forget what you may have heard, looks do matter and if you want the job, you absolutely must dress to impress.
The first thing that most interviewers do is process the image in front of them ? which is the main reason why first impressions are the most important. Furthermore, if you are interviewing for a position and your resume is not that impressive ? if you can dress better than everyone else in the room, you?ve already won half the battle.
Having a good resume is no longer the only important thing to take with you on an interview.
I can?t say how many times I?ve styled my guy and girlfriends for interviews. I knew that a lot of their success on the interview would have a lot to do with their appearance.
There are two collars ? blue and white. Here are some tips for styling on interviews for either type of job.
White Collar #1 ? Corporate Accounts Executive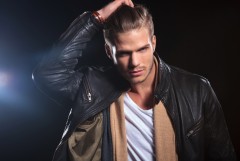 This is a paper job. It is about money, relationships and politics. It goes without saying that necessary research is needed when going on these types of interviews. From a style perspective, you need to look like everyone else. Looking like you will fit in well with the company is ideal. For this reason, if the execs wear Ralph Lauren suits, you should come to the interview in a Ralph Lauren suit. Everything is an indication of what kind of employee you would be. That means that your entire look has to be on point ? from the suit, down to the socks and shoes. Never underestimate the look.
Blue Collar #2 ? Assistant Manager at a Retail Chain
This job has a heavy emphasis on customer service ? that?s a given. Still, when applying for this kind of job, it should not be taken lightly. You want to look professional and capable at the same time. That means that whatever you wear, you must look comfortable and in your own element. Personality has to show through, but you also need to look like you are easily adaptable. You want to look like you can handle more than one thing at the same time without looking unapproachable or intimidating. That means a nice crisp pair of dress slacks with a relaxed shirt ? I would have the top buttons unbuttoned, but that would be as low as I would go.
White Collar #2 ? Corporate Creative
This could mean anything from designer, to artist, to writer. But it is still a corporate job. The difference is ? creatives have the most fun, they are also looked at as the wackiest of the bunch. If you don?t believe me, just tune in on Sundays to Mad Men. Here, your personality counts a lot. You will need to make sure that your outfit is as polished as your portfolio. If it isn?t, you?ll hear those words that nobody wants to hear: don?t call us, we?ll call you. I hate that, and I know you do too. For a creative, they want to look artsy, but they also want to look like they can blend in to any corporate situation.
Blue Collar #2 ? Bartender

Some people say that a person could careless what a bartender looks like ? they just want them to serve drinks. But now with girls going to the bars just as much as guys, it is important that we guys dress the part too. That means going to the interview dressed and looking like you could sell Reid to a roach. If you can do that than bartending will be a cakewalk. Jeans, a solid shirt unbuttoned with a wife beater or v-neck would be ideal. You want to look masculine, stylish, and well-groomed. She will appreciate it and have no problem with buying as many drinks as you can pour. The hiring manager will love it too.
You want to go into any first impression situation looking like a million bucks. That doesn?t necessarily mean that you have to spend a million bucks. However, having a solid style foundation can get you in the door ? after you step into the employment threshold, the rest is up to you.