Question of the Week? brought to you by our friends over at Leftos.com:

I'm glad you asked this question because I think this is a topic that is near and dear to a lot of single men. And I can vividly remember the frustration I used to feel after having a "great" conversation with a woman for nearly an hour, only to watch her walk away … and I'd get nothing.
You have raised some interesting questions here, so let's see if I can provide some insight.
After I get the girl talking to me, laughing, and I feel like she has some attraction to me.? I never know how to make the transition.
First, I am going to assume when you say "make the transition" you are referring to getting physical with her in some sense, or displaying a more sexual intent. A lot of guys have this same problem you're facing because they wait WAY too long in the interaction to display any sort of sexual interest in the woman.
I used to do this all the time. I would talk to a woman all night, without ever once touching her or giving her any indication that I wanted anything more than friendship ? and then later I would find it nearly impossible to go for the kiss without this obvious transition.? Hell, the entire buildup to just putting my hand on her leg would become AWKWARD as I would pussy foot around leaving my hand anywhere on her body for more than a second.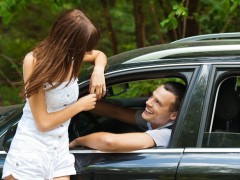 Luckily, this all can be avoided.? There are three simple things you need to add to your interactions that will make transitioning to a more intimate level entirely easier.? But it does require that you grow a set of balls.
The first thing you need to do is introduce some physical flirtation much earlier into the conversation.? You should begin by simply touching her innocently as you talk to her.? This can be as simple as lightly touching her elbow, giving her high-fives, or touching her shoulder blade.
The touching should start out VERY innocent, and as the conversation progresses should become more and more frequent.? The purpose of this is to get her comfortable with you on a physical level.? This also makes it a lot easier later on when you want to lean in for a kiss.
The second thing you want to do is make some sort of statement of intent earlier on in the conversation.? If you don't say something that triggers in her brain "oh, this isn't just a friendly conversation" then she is going to take the frame that you're just a swell, innocent, "nice guy." A statement of intent is merely something you casually say to make it clear that your intention of talking to her is not "platonic."
An example of a statement of intent is:? (if she flashes a smile) "You have a really sexy and mischievous smile, like you're totally up to no good. I'm on to you?"
Just by using the word "sexy" when referring to her eliminates any notion that you see her as friendship material.? Friends don't refer to each other as "sexy."