A Four-Part Interview with Brad P.
Part I
"If you surrender to social anxiety," Brad explained, his voice building with momentum, "That's going to be a deciding factor in whether or not you change your life."
My shoulder pressed the phone to my ear as I feverishly jotted notes between sips of coffee. Here I was, in a cramped New York café, interviewing Brad P., now living in L.A. If there were any irony in that Brad had begun his foray into studying and teaching success with women in this city, but was now talking to me across the country, I wouldn't have noticed.
I was too busy soaking up the story of how that "irony" came to be as Brad explained where he came from, common mindsets holding guys back from success with women, his novel approach to teaching, the Pickup Mansion, and why nice guys don't win friends or
influence people.
"Approach anxiety," Brad continued, "That's just a symptom of a larger problem, which is social anxiety." For a moment, I glanced out the window. It was rush hour in Midtown and herds of people hurried home through the urban maze of yellow cabs and tenacious street vendors. I focused on an especially hasty, red-faced businessman, scampering down Lexington Avenue as if being chased by a lifetime of bad decisions and missed opportunities.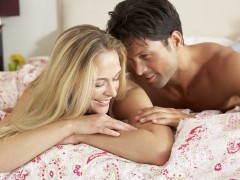 "Most guys are narcissistic when it comes to social situations," Brad said as the businessman blended into a pedestrian cluster waiting for the light to change, "They think people really care what they're doing. These guys have to realize they're not the center of the universe. No one remembers. Essentially, there are no consequences for approaching girls."
As Brad said that, I realized he wasn't just spitting advice, he was articulating how he became Brad P. Earlier Brad had detailed his transition from – what he described as – "an underachiever with women" to becoming unanimously "The Greatest Pickup Artist" and, more importantly, a guy whose had copious adventures in every aspect of dating – from one night stands, to club pickups, to threesomes and models. It's hard to believe there was a time when "The Adventures of Brad P." was more of a short story, but Brad laughed as he explained, "I was always getting put in the friend zone! I was way too nice. Plus I was shy. The combination was a submissive nice guy. I'd have these hopes for girls that would get crushed every time!" When Brad decided to make a change, persevering through social anxiety was the key to his success.
Continued in Part II, but, in the meantime, to learn more about Brad P, check out his webpage and learn how to conquer your fears at: How to Beat Approach Anxiety