The NY Post, true to its trashy reputation, recently published a Tiger Woods text transcript that read like a page out of the player's handbook. A lot of haters are coming down on Cheetah Woods, but I think he's an inspiration to any guy looking to get his dating skills handled. This dude has babes coming out of the wood(s)work claiming the have carnal knowledge of his 9-iron. And it's no surprise, seeing how the man tees off his text game. Rather than exert the convo, let's just do an ESPN Sportcenter recap of notable txts:
Babe: well I appreciate you not wanting to wake me up but if y couldn't sleep I would have rather sat up and talked to u more … find out why I keep falling more and more for you 😉

Tiger: Because I'm blasian 🙂

Tiger:  send me something very naughty

Babe: some things are worth waiting for lol … besides im at work

Tiger: go to the bathroom and take it

Babe: I have fun with u, you always make me smile and I am not afraid to be myself or say anything to u … the day I met u I thought u were going to kick me out a few times but for someone reason you didn't and u have told me numberous times I talk to much but slowly as I get to know u il think your absolutely amazing

Tiger: you are wrong I'm bone thugs in harmon

Babe: if we hang out on a Sundway we can watch desperate housewives again haha

Tiger: oh god
The Play-by-Play
Tiger's form is that of a minimalist – the man has no need for long, drawn-out text exchanges. However, what I really admire is the impact each text carries. While the lack of grammar and proper spelling suggest disinterest, he still packs an emotional punch with each word. "Becuase I'm blasian :)" is just pure brilliance. Any black / Asian players out there have the text of the millennium to send out to everyone in their phone.
The fact this chick is writing Tiger long, emotional texts and he's hitting her back with one-liners like "Because I'm blasian :)" exemplifies the sort of detachment most guys need to adapt to be truly successful at text game. We always hear crappy analogies like "How would Brad Pitt approach a girl?" but we never actually get to see a celebrity macking babes, and especially not normal, everyday chicks. With these texts though, we get a glimpse into how a legit A-list celebrity would react to a chick one of us might meet out at a trendy nightclub. Tiger is simply indifferent, letting the girl game him.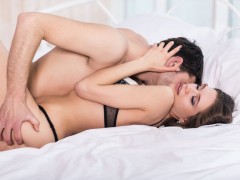 Moreover, his response to "congruence tests" is unmatched. When the girl tries to test him with feminine nonsense (i.e. "we can watch desperate housewives"), Tiger can't even be bothered to give a response. Simply "oh god." The brilliance lies in the subtext. The fact this is over text makes you wonder if that "oh god" is said in a voice that's frustrated, defeated, shocked, annoyed. What I admire about Tiger's shrewd, pithy responses is how he keeps the girl guessing. Is he angry? Upset? Bored? "you are wrong I'm bone thugs in harmon". WTF?!?!?!
By the way, "you are wrong I'm bone thugs in harmon" = the official greatest moment of text history, ever. Voted unanimously by the panel of judges at GREAT MOMENTS IN TXT HISTORY (me). This text is so perfect, I don't even want to ruin it by explaining why it's so awesome. Let's just give it a golf clap and end on an example of how I used that text to get some of my own incriminating text convos sparked…
Rob: you are wrong I'm bone thugs in harmon

Babe: Stop playing that boring golf game and come hang out

Rob: Go to the bathroom and take some sexy pixxxx

Babe: Your so bad winky face

Rob: You understanding that  = we need to make a lovechild

Babe: We NEED to

Rob: It will be ridiculously good looking, a future Zoelander

Babe: Or we can farm our eggs and sperm together and make some money

Rob: I intent to ravish you my dear, Tiger Woods style

Rob: I will be your first, last, and only white lover

Babe: I find that hard to believe

Rob: That I am going to ravish you?? Hmmmm how can we settle that…

Babe: Hahahaha no I meant that for the other taxt about the only white lover… I know you can ravish me baby

Rob: Come to the city ASAP