The Secret to Getting a Girl You're Compatible With
When it comes to getting girls, there is a big difference between getting a girl you like, and getting a girl who likes you. Most guys go their whole life settling for a girl who likes them and rarely go after the girl that they want. If you settle for a girl who likes you rather than a girl that you like, you will unconsciously destroy your self esteem – and the relationship – over time. I discovered this the hard way.
When I was young and inexperienced with women, I was so hungry for a physical relationship that I sacrificed my standards. Not a good idea.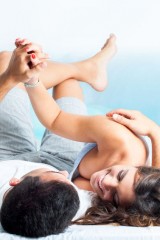 Now, don't get me wrong. I'm not saying that you should never sleep with girls you're not compatible with, I'm just saying don't make them your girlfriends. A relationship is time consuming, emotionally draining, and sometimes a downright burden. And if you're in a relationship with a woman you're not really into – the negatives will be multiplied by the thousands. This is why I recommend spending the time to figure out what kind of woman you want to have a relationship with, and focusing your attention on attracting her into your life.
When guys start figuring out what kind of woman they want they usually spend most of their time describing her physical appearance and her personality. But there is a lot more to figuring out what kind of girl you want then just describing her looks and personality. And a big part of the process starts with figuring out what kind of guy you are.
Getting a girl like you
The big mistake men make is they assume that because a woman has a few of the same interests as him that will get along as a couple. But this just isn't the case. When it comes to finding the right woman for you, there is something more important than looks, personality, interests, or hobbies. And it is called "How you see the world."
How you see the world
How you see the world is largely determined by how you answer the following questions:
Do you see the world as a fun place where people are generally good, and the options around you limitless? Or do you see the world as cold, conspiring against you, and judgmental?
Are you controlled by your ego, your need for approval, and your desire to be better than others?
Do you use logic to make your decisions?
Or are all of your decisions based on emotions?
Do you find the comedy in things? Or relish in drama?
These are all the types of questions you want to ask yourself. Why? Because you want to find a girl who shares the same world view as you. I can tell you from experience, that there is nothing worse than making a logical argument to a woman who basis all her decisions on her feelings.
What are your core values?
Honesty? Freedom? Family? Impact? Contribution?
I never realized the power of "core values" until going through a long term relationship.  I discovered that one of my core values is "freedom" and discovered that I can't date a woman who is emotionally needy or threatens that freedom.
I'm not going to get into how you discover your "core values" because that will take up an entire post. But I want you to be aware that things like "core values" and "How you see the world" go a lot further towards finding a girl like you than similar taste in music or movies.
Just my 2 cents.
Bobby
Having trouble keeping a conversation going? Grab my free "Small Talk Tactics" Report. It includes a 27 page lesson on "sexy" small talk plus a one hour audio lesson on conversation skill building. Get it now.
Related Video: How To Make A Girl Fall Desperately In Love With You