When Pimpin' Ken talks about breaking a bitch, he is referring to turning a girl into one of his prostitutes (colloquially referred to as a "ho"). When Christian Hudson talks about a bitch breaking you, he is referring to a girl turning you into her supplicating lackey (colloquially referred to as a "pussy whipped chode"). Many of you either are, or have been the latter, and you probably shouldn't be reading this article if you've at some point been the former.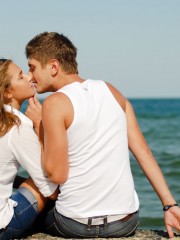 This week has been chock full of people plugging Christian Hudson and Nick Sparks' "Unbreakable" program. I'm sure this program is great, but damn is it frustrating to hear about it from every guy out there for multiple weeks straight. This program first came out over 6 months ago, and I suppose they are rereleasing it now. Having not seen the program, I am not going to comment on the quality of it, but I do have a nice little tip for you that I have used time and again to get laid, so I'm glad someone other than El Topo is finally catching onto it. Covino and Rich call it pulling the "Tony Danza" because you show her who's the boss, El Topo calls it step one in Kung Fu Penis, Brad P uses it for bathroom lays and has broken his version of the technique into the catchphrase "when in doubt, whip it out," and Nick Sparks calls it the "cock in the hand technique (click through for video describing it)."
It's a three step technique that is even more simple than the dick in the box costume. Step 1, unzip your pants. Step 2, pull out your erect cock (warning, do not try if you're not hard). Step 3, put her hand on your cock. Most guys do the exact opposite, trying to get their hand on the girl's pussy before getting her hand on their cock, but this is going to seriously hurt your chances of getting laid and dramatically increase your last minute resistance (LMR) rate. Women, including the butchest of lesbians, have a lower brain trance like reaction to a hard cock when they are turned on. It's just the way it is, don't fight it! As you get your deep comfort game up, you can start talking to girls about this, and they'll tell you, their favorite part of the cock is the head, and their favorite thing about a cock is when it cums.
A cautionary warning, it takes calibration to pull this off. This is not a very effective opener, and potentially may get you registered as a sex offender. But if you're alone and making out with her, it's probably a good move. If you want to do it earlier in the interaction, delivery will be crucial. I recommend checking out the California Pimp of NetVideoGirls.com if you want to learn how to do it right. He's all over the tube sites, tubaholic is probably your best bet. The stuff from '03-'05 is all real, newer stuff is more questionable, or at least less informative.
In other community news, Braddock and Mr. M of Love Systems are  finally releasing their phone and text game product. It's something they've been talking about for over a year now, and I imagine that it will be a pretty hot product when it is finally released tomorrow (I'm writing this on Wednesday even though you are probably seeing it on Thursday). I haven't seen this product, but I have read the third chapter which is released for free by signing up for the email list here, and I highly recommend it. If you are having trouble converting phone numbers into dates, this single chapter should dramatically improve your conversion rate.
Text messaging is a very powerful tool, and if you want to upgrade your text game to do things like getting girls to fly across the country to see you, it is going to take a lot more than this chapter, and I would have to read the rest of the book to know if it addresses this stuff. But if you're just trying to get the women that you meet out on dates, which is all that a lot of the top people in the world (including Captain Jack) use it for, this chapter is going to pretty much teach you about 80% of what you need to know to do this. Major props Braddock!
Until Next Week!
Hammer