This Valentine's Day, I learned a thing or two about trench warfare. While other couples were off celebrating with chocolates and copulation, I was clenched in a foxhole, digging into a position, and dodging whatever projectile my girlfriend fired at me (which included a Nintendo Wii, a hardcover copy of Portnoy's Complaint, and a hail of razor-pointed Hersey Kisses). So it goes…when you date hot-tempered Turkish girls.
But Mediterranean heredity is only partly to blame. The real culprit was my careless buddy, Big Steve, who effectively turned a romantic holiday into a vicious bloodsport. The prequel to disaster began a month prior, when Big Steve asked if he could "house sit" my apartment a weekend I'd be away. In a symbolic gesture against cock-blocking, I acted as a "cock-catalyst,"  flippantly tossing Big Steve the keys to my Upper East Side studio with an open invitation to "get wild."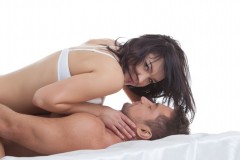 I can only speculate as to the magnitude of the debauchery that invitation encouraged—for when I returned, it looked like my apartment had hosted a wild Greek sex orgy. Condom wrappers were littered in a scatter pattern that defied logic, but suggested Big Steve had fornicated in my bedroom, my kitchen, my bathroom, on my bookshelf, over my coat rack, and in my closet. Blasts of (what I'm hoping was) lube dotted the walls like a Jackson Pollack painting gone perverse. Discarded female accessories were hidden throughout the apartment like Easter eggs—or perhaps more apt to this story, like landmines.
Sure enough, a day or two later, when my suspicious Turkish girlfriend stopped by, she quickly discovered a remnant of Big Steve's weekend sexcapades under a couch cushion in the form of a gold foil Trojan wrapper. Naturally, this prompted a forensic sweep of my apartment, whose thoroughness uncovered a spattering of incriminating evidence. Most notably, a hot pink hair band was left precariously near my bed. My Turkish girlfriend waved the smoking gun in my face, demanding to know, "What the fuck is this?!"
"I know it's going to sound crazy," I said, calmly. "But it's Steve's."
"Oh," she hissed. "So Steve's wearing pink hairbands now?"
"Not exactly," I explained. "It came from one of Steve's girls. I think."
"One of Steve's girls," she snorted. "You expect me to believe this?" Without warning she flung a d.v.d. case at me. "You stupid fucking guy!"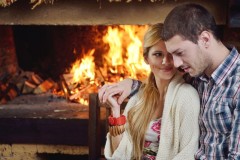 "Wait," I said as she gathered up her things. "I can explain!" Realizing, as the words left my mouth, how ridiculous and cliché they must've sounded. As she walked out, slamming the door behind her, I realized how ridiculous and un-cliché the situation must've appeared. How could I expect her to believe Steve had borrowed my apartment for a fuck-fest? It was like the time I was 12 and my mom found a pack cigarettes in my jacket that I was supposedly "holding" for a friend. I might as well claim aliens left those condom wrappers and pink hairbands.
But, being the persistent love warrior I am, I proclaimed my innocence via text, trying to convey the full story while emphasizing my hopes of spending Valentine's Day with her. For a solid week, I got no response. And during that cold week of silence, I came to a conclusion about relationships and breakups: It's always the things you never appreciated about your girl that you miss the most when she's gone.