For better or worse we do so much of our communicating these days via text. It's convenient as can be but is also such a casual format that it's easy to be misunderstood in tone, word choice, and response speed. (Or lack there of.) No where can this get as complicated as when it comes to dating. Here are some absolute texting no's to consider when you're dealing with a love interest that you'd like to keep around for a while.
Watch Those?Periods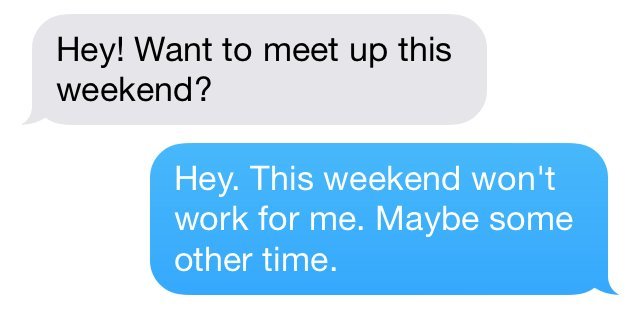 Proper punctuation and grammar is hot, but you should probably chill out with putting a period at the end of one sentence texts. It looks cold and can even come off as angry. Sounds dramatic, but anything to avoid sending a woman into a "well what did that mean" tailspin is a good idea.
Obsessive Texting
If you haven't heard back from a girl after a couple texts, you might try calling her but otherwise back off and resist the urge to keep rapid fire texting her. No one is paying more attention to their cell phone than a girl with a crush so you better believe if she's interested she is going to respond to you.
But don't assume that a lack of response within an hour means anything either, she might be in yoga. Whatever is happening, you're better off keeping the texts to a normal amount so you don't demonstrate any neediness that you will regret later.
Not Responding
We're all adults here, no one should be playing any text games. If you're chatting with a girl via text and then suddenly drop the conversation right after she tells you a detailed story about her day, she is going to feel like you slammed the door on her. It's fine if you're busy, just be straightforward and respond within reasonable amounts of time so she knows that she's on your mind.
If you truly forget about her mid conversation or if you would rather to talk to someone else instead, it might be time to consider your real feelings about the girl. Leaving her hanging in the short run generally hints toward?leaving her hanging in the long run as well.
Anything Too Crass

Maybe she loves your raunchy sense of humor, but in the beginning stages of a dating situation you don't want to text anything that could be taken the wrong way. She is most definitely screenshotting your texts and sending them to all of her best friends to evaluate what kind of a person you are, so you might as well chat in a way that would make your mother proud.
No Naked Pics

Women who enjoy surprise pictures of the male genetalia are few are far between. We just aren't turned on in the same way that dudes are when it comes to the visual stuff. When a photograph of an up close penis comes through as a surprise on our cells it usually spurs laughter and/or horror, not sexy feelings. Save it for the bedroom where we actually appreciate what you're working with. Plus, as noted above she's definitely going to show everyone.
No Serious Talks
Whatever you do, do not try to discuss a makeup, breakup, cheating scandal, or moving across the country via text. It is way too easy to give off a vibe that you didn't mean to send and messages can get completely scrambled from their initial intent depending on the state of mind as the reader. Plus, anything that is of true importance to discuss will always feel more respectful when it's done verbally. Nerves keeping you from picking up the phone? Get over it.