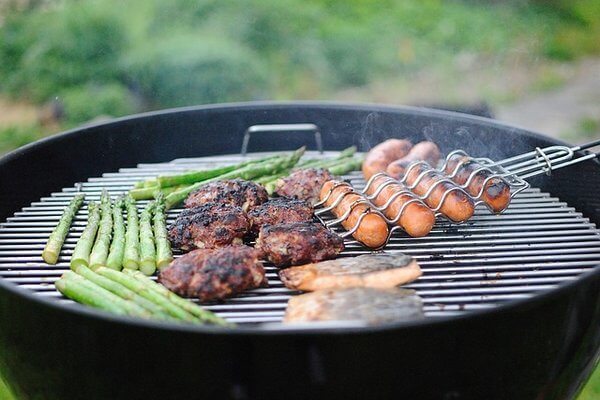 During the summer months using the grill to cook dinner is a common occurrence whether you're prepping for a dinner party or just cooking for two. But using the grill to cook just meat is not getting the most possible use out of it. Here are some foods that might be a little unexpected for the grill but taste great and are (mostly) healthy too.
Any Vegetable
That's right, pretty much any vegetable can be grilled up outside. (Not just corn!) Artichokes sliced in half are a good option, whole carrots that have been doused with lime and cilantro, pods of edamame, sweet potatoes, brussel sprouts, and portobello mushroom caps which can be topped with any sort of spread or sauce that you like. You can even grill heads of romaine lettuce which can really stuff up your salad game.
Appetizers
Many a delicious appetizers can be grilled as well. Slices of polenta can't get any tastier than when they are grilled, and grilling kale before you turn it into a ricotta salad will add an interesting taste. Stuffed peppers and even stuffed apples work really well on the grill, as do homemade jalapeno poppers where you wrap them in something like bacon before throwing them down on the grill. It's even possible to grill your own nuts if you place them into a foil pan before throwing them on the grill.
The summer would not be complete without some grilled avocado either. You can simply cut in half lengthwise and remove the pit and the grill the halves face down to get some nice grill lines. Fill in the pit hole with whatever topping you would like.
Sandwiches
Who needs a panini press when you can grill your own sandwiches? Of course this works great when cheese is involved since you get all the melting action. Slices of mozzarella are a great choice when you're filling the sandwich with vegetables like tomatoes, squash, or slices of red pepper.
In other bread related meal options, quesadillas are amazing on the grill, and of course pizza is as well. Full sized pizzas can be cooked up on the grill and as well as tiny ones made for appetizers.
Desserts
Don't overlook the desserts when it comes to grilling either. Many fruits grill up really nicely and this can a way to make them seem a little more exciting than usual. Slices of pineapple for example are one great option, as are whole peaches which can be grilled and then just eaten whole as usual. If you thought that donuts couldn't get any tastier you were wrong, because those can be grilled too. You can also grill pound cake since it is thick enough to withstand the handling and transfer.
Upgrade Your Drinks
To give your cocktails some flair, you can actually grill halves or quarters of the limes that you will using to squeeze juice into your drinks. Lemon wedges work well too. For any of your more fruity drinks you can throw in one of those grilled pineapple slices as well.