Amanda – New Female Instructor from PUA Training
While hanging around with AFC Adam in New York City this weekend we had an opportunity to meet one of the new female instructors from PUA Training. Amanda, who is from Dallas Texas (ye-haa!), was a really nice girl and had some great methods for working with the students. Adam and Amanda working together helped the students see both sides of the game and gave them the reassurance and practical wisdom of playing it cool and being yourself.
We had a good time hanging around with these two and a great time at the Henry Hudson Hotel after ;)Â  If you're in the market for a good bootcamp, Adam Lyons puts on one of the best out there.
Here is a small segment where we sat down with Amanda and Adam to discuss the boot camp and some female perspective.
You can also preview the entire series here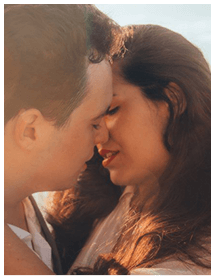 Simple Trick Tells You if a Girl Wants You to Kiss Her
Do girls leave you confused as to whether or not they like you?

Let's face it. Girl's don't make it easy for you. She will often send mixed signals leaving you unable to tell if she is being friendly or flirty. If you read her signals wrong you risk rejection and embarrassment. Or worse, you blow it with a girl who wanted to kiss you.
Here is a simple and innocent move that will instantly tell you if you're in the friend zone, or if she's waiting for you to kiss her.

We respect your email privacy
About MikeStoute Michael Stoute here, and at your service. I am a writer/editor/lover and a fighter. My words are weapons of wisdom so watch out, you may learn something...or better yet, maybe you can teach me something! Have a question? Please try to leave it in the comments, it will get a faster response than an email. Otherwise, Email Me