Jobs That Give You The Best Chance To Hookup
Most romances don't occur between two people who meet at a bar or club. The majority of romances occur in the workplace. It makes sense. When you're spending 4 to 8 hours a day with the same group of people you tend to get close to them. You also tend to start picturing them naked. It's a fact of life.
I learned this lesson my junior year of high school when I took a job at Shop Right. I wasn't working there for more than two weeks before I realized that the employees looked at the place like it was a giant night club. Everyone was hooking up. And I mean everyone… from the 16 year old cashiers to the 55 year old Seafood Dept. managers.
If you're in high school I would probably recommend a job in a supermarket for meeting women. But once
you graduate high school the quality of girls your age working in a supermarket will greatly diminish.
I decided to put together a list of some of the best jobs to meet women at. These are jobs for those of you still in college, those of you still waiting to find your life calling, or those of you just looking to supplement your income with a second job.
Remember these jobs not only open you up to meeting co-workers and customers… but you also get introduced into the social scenes of all the friends you make at your new job.
The 5 Best Part Time Jobs for Meeting Women
5. Tanning Salon– If you are going to get a job in a tanning salon you want to make sure it is one of the bigger chains with lots of beds. You want to work in a salon that has at least 5-10 other people working there. Chances are they will all be girls. Young girls. All the customers will be girls as well.
A tanning salon is best for someone with a fairly good level of game. There won't be as many co-workers to choose from, and you will only have a minute or two to interact with customers each time they come in. The benefit is that most likely it will be a small staff of 2 or 3 people working. This means you will have up- close and personal time with any cute chick working there. And most of the customers will be repeat customers coming in weekly. This means you will have a chance to build rapport over time.
4. Barnes and Noble– Barnes and Noble is best for the guy who genuinely likes to read and discuss books. The girls that will work there will more than likely be the hipster intelligent type. These girls may seem kind of nerdy… but they are wild in bed. There will be many female customers roaming the store… but it will be hard to spend a good amount of time hitting on them without pissing off your manager.
Barnes and Noble won't offer as many hotties working there… but you will have a great opportunity to interact with those who do. If at all possible go for a position in the cafe. The cafe will offer the best opportunity for flirting with customers.
3. Retail Store in a Mall– This job is for those of you under twenty one. And it is perfect for you. If you get a job in a store like The Gap you are bound to be working with adorable little 19 year old hotties. Hotties with a lot of 19 year old friends. The customer base will largely be young girls. Not only will your store have hotties employed in it… but so will every other store in the mall. If you're working there for awhile you'll become aware of the girls that work in Hollister a few stores down… the girls who work the counters in the food court… and the girls selling bra and panties in Victoria Secret.
The mall is a Mecca of female talent. You're game needs to be good… but not great, to enjoy the fruits of your labor. If you establish yourself as the fun party guy you'll soon be adored by all the Just Graduated High School Hotts. And I ask… Is there a better age group to be adored by? I think not.
2. Waiting Tables in a Restaurant– Can you say social scene in a box? That is was what waiting tables is. It's an instant social scene. Get a job at chain restaurant like Fridays or Houlihans and you will instantly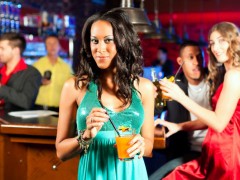 be engulfed in a social scene of 10-20 other likeminded college students looking to get paid, get drunk, and get laid.
You're game doesn't have to be good to work the restaurant scene. You'll work with a mix of college hotties, single moms, and the barely legal high school hostesses. If you're half way social and present your best self… you'll get laid. Alot.
What makes waiting tables better than the other three jobs on this list? Alcohol. The best part of waiting tables is that it is almost customary to have a drink with your co-workers when your shift ends… and we all know… one drinks turns into three or four.
The only drawback of a watering job is that there is very little chance of scoring with customers.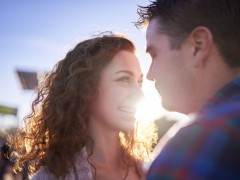 1. Bartending in a Hip Bar– This is the Pinnacle of part time jobs. You get the best of all worlds. You will be raking in the cash. You will be banging your co-workers. You will have your pick of the customers. Point blank… bartending is a power job.
Don't ask me why… but bartenders rank up there with cops for scoring the most ass. What makes bartending so great is that your co-workers and clientele are likely to be just the kind of girls you're looking for… hot, easy, and they drink!
It's not easy to land a good bartending job at a cool place. But that's part of the power in achieving it. Working as a bartender in a hip place says "I know important people."
Related Video: How To Meet Women In The "Real World"