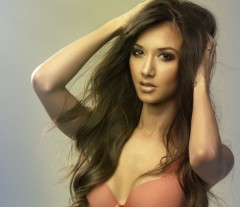 So, ever since the Heroes premier I haven't been able to get the hot Latina Dania Ramirez off of my mind.  I actually went to Montclair State University with her, and shared mutual friends in the Greek system.  Sadly, I never had the opportunity to indulge in the goodness.
Its great because her character on Heroes seems to be a real slut.  Last year slept with Syler, this year she's already slept with the Indian guy.  I like the trend!
If you missed Heroes you missed a short but amazing sex scene involving Dania.  I can't seem to find the Dania Ramirez Heroes sex scene… but I found one better!!!
This is a Dania Ramirez lesbian sex scene with Kerry Washington from a Spike Lee film She Hate Me.  I haven't seen the movie, yet but this is one hot scene.
Here is a simple and innocent move that will instantly tell you if you're in the friend zone, or if she's waiting for you to kiss her.

We respect your email privacy
About Bobby Rio I'm Bobby Rio, one of the founders of TSB. I tend to write about what is on my mind so you'll find a mix of self development, social dynamics and dating articles/experiences.  For a collection of some of my favorite articles check them out.