This next article is part of an ongoing series here at TSB Magazine called The Success Principles. The series is based on the 64 principles laid out by Jack Canfield in his course of the same name. If youre new, I always suggest starting any series from the beginning.
Principle 14: Just Lean Into It
Today's lesson is short, and in ways is a brief continuation of yesterday's lesson Take Action.  The fact is, that sometimes taking action is intimidating.  At the very beginning of a journey, sometimes it is more important to just get started then the entire plan outlined perfectly.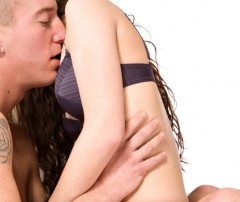 No one really knows how something is going to turn out until they get their feet wet with it for a little awhile.  For instance, you may have always had a strong interest in music, but never really considered a career in it.  Then one day, short on cash, you reply to an add looking for a helper for a local DJ. You get the temporary job, only to find out that you love it, and wind up making a career out of it.  Or maybe, feeling a little lonely, you decide to put a profile up on an online dating site.  The next thing you know your inbox is flooded with available women looking to chat with you.
Oftentimes, success happens when you just lean into it- when you make yourself open to opportunities and are willing to do what it takes to pursue it further- without a contract, without a promise of success, without any expectations whatsoever.  You just start.
The truth, you never really know how any situation is going to turn out until you explore your options a little bit.
Four years ago, Mike Stoute, in the mist of building websites for various friends, asked me if I was interested in a website.  He told me he would create one for me for free.  I had never even considered starting a website, but since I always had a strong interest in writing, I decided to give it a shot.  At the time, I was in the mist of the sickness, and needed to get my mind off of a particular girl.  I decided to write about ways to beat the sickness and improve with women.  Now, five years later I've made a career out of it.
The advice of this principle is simple:  Pick an area of your life- career, financial, relationship, health and fitness, recreation, hobby, or contribution- that you would like to explore and just lean into it. You might be surprised what you find.