In the great movie The Tao of Steve, one of the three rules for succeeding with women is "Be Excellent."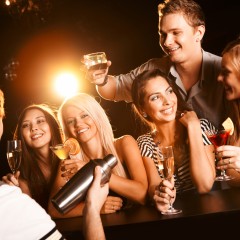 Women are naturally programmed to select the mate who she thinks will make the best provider.  Millions of years of evolution are behind this, and in some prehistoric way, women are still fascinated and attracted to the men that make the best hunters… the ones who excel at running fast, physical prowess, and domination.
Now we obviously don't have an opportunity to show off our physical dominance by killing live buffalo or throwing speers accurately… but you can achieve the same results by showing off your athletic ability… assuming you have some.
You have to go about this smoothly.If you constantly brag about your ability and then demand she come watch you, it will probably have the opposite effect. Her expectations will be super high, and you'll probably wind up boring her.
Let's say your good at ultimate Frisbee.  Your approach should be something like "We've got a game Saturday in the quad.  It will probably be boring for you, but I'd be grateful if you came:  I could use a good cheerleader, and I'm sure your presence will inspire me."
Portray yourself as mediocre before hand.  ("I am quite out of shape and hope I can  justkeep up this week." Even if your performance is just average, and you don't make any serious blunders.. she'll likely come away thinking you looked awesome on the field.
Afterward, instead of downplaying your performance, tell her that her being there led to your best game yet.
At the same time, profess embarrassment that you participate in the sport ("Pretty mindless way to spend an afternoon, eh?")
Then apologize for taking up her time.  ("That must have been tedious for you").
This teqnique worked back on the playground in the first grade… and it still works now.  It is highly likely that after watching you sprint up and down a field for an hour.. your girl will be so hot and bothered she'll be ripping your clothes off back in the dorm room.