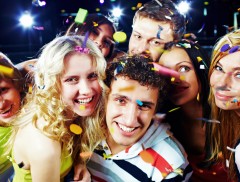 Like all of you, I hated school work and writing papers (yeah a little ironic). There was always somewhere else to be, something going on at campus or a new friend to chill with…and slowly classes get forgotten. I missed so many classes my freshman year I had a .02 grade point average. My parents flipped out and said I could have another chance but I would have to go to summer school.
So I took summer classes and although annoying, they were amazingly short and easy. All for the same credit?!?! I ended up having all A's and B's like a breeze. The classes were more like cram sessions and you could take a boatload of credits in one summer. The requirements and work are usually less because the teachers want to enjoy the summer too. It's just a way more relaxed environment.
In fact you could take almost a years worth of credits if you busted it out in one summer! Can you imagine coming back next year, everyone with a full schedule and you having only 2 classes a semester?
Not to mention everyone taking summer classes is in the same boat. This makes it easy to meet people and make friends given your close knit group. So I urge you, even if it is for just one summer, take summer classes and flip up your free time for a year…it may make all the difference for the coming college semester.
Anyone ever try this?
About MikeStoute Michael Stoute here, and at your service. I am a writer/editor/lover and a fighter. My words are weapons of wisdom so watch out, you may learn something...or better yet, maybe you can teach me something! Have a question? Please try to leave it in the comments, it will get a faster response than an email. Otherwise, Email Me