When I first started out in the dating or "pick up artist" community, I just wanted to get laid more, be able to attract beautiful women and have more choice. But everything evolves. Now that I've done those things, I know that what I really want are high quality women that inspire me in my life.
I was a terribly introverted kid.  Everything I've done in my life since about age 12 has been to try to buck that trend. When I was young, I thought that because I was short, Sri Lankan and not a good-looking kid, I could never be good with girls. Then one day I found Love Systems, and my life began to change.
I worked hard on myself for years to get to where I am now: a full-time Love Systems instructor, traveling the world running Day Game Workshops and living my passions. I can't tell you how many ups and downs I have had over the years. But no matter how many times I fell off the horse, I kept getting back on it again, more determined each time.
Today, I am living in Stockholm and dating a girl in New York. Let's call her Alison. This woman is not only beautiful, but intelligent, creative, daring and challenges me in ways that no other woman ever has.
Meeting and attracting a girl like Alison wasn't only the work of a 3-minute conversation and a 2-hour date later that evening. It took years for me to become the man that she would find so attractive. Today, I want to outline some of things that prepared me for the moment that I met her, walking through Union Square on a mild day in NYC.
Mentality
I read a book on self-defense once that said, "When you leave the house, you have to be ready to fight. You have to know where the line is, and that when someone crosses it, you will do what you need to do to defend yourself."
It's the same with meeting women: every day is a new opportunity to meet the woman of your dreams or have the best sex you've ever had. When you wake up each morning, you have a choice: will you seize the opportunity today or will you wuss out like most people do every day of their lives?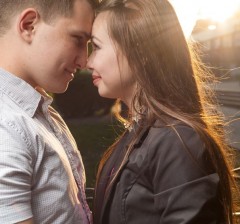 Whenever a beautiful woman walks past you on the street, whenever you're on your lunch break and there's a gorgeous woman sitting next to you in a café, or whenever a cute girl is helping you out in a store, there is an opportunity. Don't waste it!
Radar
Most people I know walk with their heads down towards the ground. It's all too common in cities like New York and London where people are focused on keeping themselves to themselves.
But you need to keep your head up and look around at the world if you're going to see opportunity. Part of it is also making sure you look like an ambitious, confident guy. Keep your eyes on the horizon, and look out for attractive women.
If a woman catches your attention, don't let her see you staring at her while you hesitate and invent reasons why you shouldn't go talk to her. Allow her beauty to sweep you up in the moment, walk straight over and tell her what you need to tell her. Check out my article on Direct Openers if you are not sure what to say and need help starting the conversation.
Style
The way you dress is one of the biggest things a woman will notice about you the first time she sees you. I've never been a professional style expert, but a lot of guys on workshops often ask me about my style and how I got it.