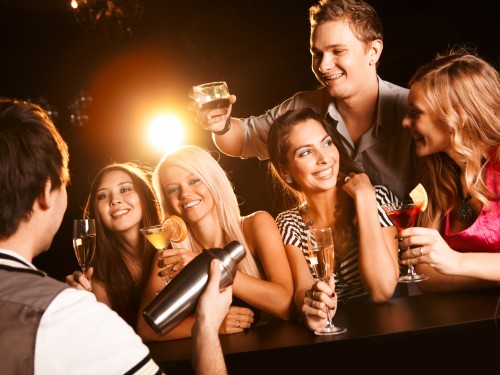 Colleges around the country are suiting up for the most physically demanding sports season of the year.  No, it's not your pussy intramural softball championship; it's the "back-to-school" drinking marathon teeing off at a frat house near you. You're probably finding yourself in transition between the last days of getting fall-down-drunk with your hometown friends, to going back to campus and getting fall-down-drunk with your college friends. This can put some serious strain on your alcohol-saturated liver.
But I'm not here to suggest "pacing" yourself. Let's get serious: it's COLLEGE.  I'm simply going to lay out a few "sportsman-like" party regulations.
Beer pong refs are NOT welcome – If I get called on "leaning" or "elbows" one more time, I'm going get brutal like Michael Vick on a losing pit-bull. Look punks, if I wanted rules I'd start playing chess. I play beer pong to drink my face off my body. The only stripes I want to see people wearing are ones drawn on with a Sharpie marker.
Cheer on your guys – When someone's out there pounding beer after beer, they need motivation! That's where the crowd comes in. Make it your responsibility to be the guy who initiates a cricket-like chant of "chug, chug, chug, chug". Also recommended is randomly screaming "Spring Break 2001, who remembers?!" or simply "College!" repeatedly.  Everyone loves these loudmouth all-stars; especially girls.  Which reminds me: girls, flashing boobs is great motivator too (particularly when you take pictures and post those pictures on this site).
The high school hook-up violation – This isn't just a party foul – it's a party technical.  Granted it is funny.  Who doesn't get a kick from telling friends "Last night I got with a junior…IN HIGH SCHOOL!" Though, the humor lies in the fact you're a sex offender.  Put the high five away, R. Kelly.
Hold the Sports Center recap – I remember once upon a time awaking after a bout with Bacchus and my entire hall finding it necessary to alert me to the fact that I was "so wasted last night."  Thanks guys, I obviously wasn't tipped off by the megaton of beer I ingested, my vomit stained clothing, or the ringing hangover. Leave the highlights to your school paper's police blotter.
The keg slam drunk – Like scoring a touchdown or touching a boob, tapping a keg is something to celebrate.  Fittingly you have to flaunt your accomplishment as if it were a Starter jacket in the early '90s (who remembers?).  There are various ways to throw a keg. Some prefer the two-handed-monster-dunk while others rely on the shot-put throw approach. Whatever you choose, send that ale-pale heavenward and extra points if it lands on a nerd-bomber (like a scene from a sweet 80s movie).
Seniors: Go for the glory – For most college kids this might be your forth and final season of inebriation week. If it's your fifth or sixth season you probably weren't able to read this far, so I'm not even going to bother with you. Regardless, dudes: this is your last chance to slug beers in the non-real world dimension, where drinking from a funnel won't land you in a meeting. If you're not face down in a toilet bowl by the end of the night, you didn't give it your best. Pussy. Go cry to your intramural softball team.