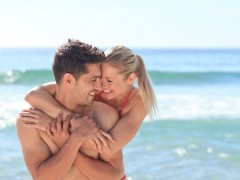 Man rejoiced when God handed him the tablet inscribed with the first five commandments. "Wooo," man exclaimed, "Time to get laid!" And man made a dash down the mountain of knowledge. But the word of God was not complete. So God sent an angel of destruction to block man's path. This angel took the form of a fat chick and said unto man, "Where do you think you are going with only five commandments?" Man replied, "Out of my way, cock-blocker! I need to find woman!" The chubby angel of destruction said, "If you think I'm a cock-block, wait until you see what happens when you only obey five commandments." And man became saddened. Man hung his head in shame and trekked back up the mountain of knowledge to receive the second tablet containing the final five commandments of the first date.
VI. Thou shalt not travel beyond three blocks of thy home.
Now God said to man, "No matter where you live, you will never journey more than three blocks from thy home!" And man stammered, "But what if I have really good Knicks tickets, but the game's downtown?" And a booming roar thundered from the heavens as God mocked man, "Oh really? Are the Knicks better than a game of Naked Olympics in your bedroom? Perhaps if you have such a boner for the Knicks you shouldn't be on a date with a woman in the first place!" And man understood His wisdom as he sheepishly removed his Knicks hat, and it was good.
VII. Thou shalt not be too serious
Man scratched his head and said he still didn't understand how to act around woman. "What if I run out of things to say?" man pondered. So God said unto him, "I decree that thou shalt not be too serious around woman." And man stared into the heavens, blankly. "What?" asked God, "Am I not making myself clear? Just be cool and funny and not a total creepster, man." And man said, "But how do I do that?" And God asked man, "Why so serious?" Man shrugged, so God decreed, "Yo! Just have a beer and chill, man!" And man understood His wisdom.
VIII. Thou shalt not wait more than 30 minutes before the first kiss
Man asked God, "But how will I know when it is the right time to kiss woman?" God palmed His face and hissed, "Man, make your move quick or else be smote to the Friend Zone." Man asked, "But won't that be awkward?" God boomed, "Waiting and then surprising her with a boner 2 weeks into a friendship is awkward!" And man said, "Get my kiss on I will," and it was good.
IX. Thou shalt have something "cool" to show woman back at his place
Man asked unto God how would he convince woman to come back to his place, and God said to him, "You shall adorn your dwelling with "cool" items. A Nerf hoop, goldfish, a collection of Goosebumps books, Nintendo Wii is a good one, oh, and anything from that 'As Seen on TV' store." And man said, "But those things aren't cool. Do women even like Nerf hoops?" And God said to him, "You shall oversell everything. You're not simply showing her a 'Nerf hoop.' You're showing her your indoor basketball court. Get creative, man!" and it was good.
X. Thou shalt be discrete…sorta
And man wished to hear the final commandment and God said he would not like it. But man insisted, so God said unto him, "You shall be discrete about what you do with woman." Man shuddered but God continued, "You may want to run back to your bros and tell them of the sex you had. You may want to celebrate with high fives and a round of Miller Lights. But I warn you, if you brag, you are violating the trust of woman and, more importantly, the word of God." Man wept profusely and whimpered, "But God, how will I ever get respect from the guys?" And God said unto him, "You shall become a dating columnist for an Internet magazine and you will write about getting ass in the abstract and people will leave comments." And it was good.
This is the word of God, follow the Ten Commandments of the First Date (and leave comments!) or you will be smote by an angel of destruction in the form a fat chick!