I started writing the Another Date under Distress (A DuD) column to spotlight my own dating follies and courtship bloopers. And while I have a volume of memories that attest to poor mating decisions, I?ve also had a hand in ruining other people?s dates. So this week?s DuD goes back a few years, when my friends and I were home from college, around mid-May.
It was springtime: the season of the famed and alliterative pre- party. Oh, how handsome the tuxedo-lad gents looked! And the ladies, so elegant, in their flowing evening gowns! I am foaming at the mouth just thinking of all the parents, with their cameras and their smiles and their good intentions, knowing there was a day when I helped ruin all that?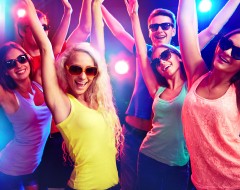 My friends and I were driving somewhere through the tree-lined streets of suburbia. Birds were chirping, white clouds hung lazily in the sky, and the sun was so bright the sidewalks looked white. This was a day where people milled about; strangers waved to one another in passing; kids ate ice cream on stoops and curbs. A day of what I call ?Suburban Pristine.?
I was driving my mom?s minivan, packed to the gills. Beside me, my friend Ed smiled recklessly, which is disturbing since he?s the biggest badass I know. In the backseat were other friends, assorted girlfriends, etc. We were probably listening to Journey and, subsequently, probably the song ?Don?t Stop Believing."
Suddenly, Ed broke the tranquility. ?Stop the car! Stop the car!? he screamed.
I screeched the brakes.
Ed slid the door open and ran into the street, frantically. In fact, frantically is not an apt descriptor: his arms flailed, his legs spurned, his back arched. He looked like a cross between a caveman tracking an animal and a stealth spy trying to tiptoe inconspicuously.
Now, if this story were a movie, here is where the camera pans right, revealing a mass of people in front of a white, aristocratic house. This was a pre- gathering right out of an Abercrombie catalogue. Toothy-grinning couples held one another in long, panoramic embraces as flashes from parents? cameras lit up, giving the scene a heavenly glow. A grand affair indeed, small children scampered about in the foreground, chasing a brown puppy.
Everyone was ready for a momentous adventure. No one was ready for what Ed did.
Ed, a showman, started things off darting into the middle of the street, putting himself on center stage. But caught up in the precious photo-op, no one immediately noticed. So Eddie began chanting ?Hey!?
?Hey! Hey! Hey! Hey! Hey! Heyheyheyheyheyheyhey!? he bellowed, gradually wresting the attention of some pre-ers. But most people took no notice, still consumed in magic of pre-.
So Ed got resourceful. He dropped his pants.

He undid his belt, openly let his pants fall to his ankles, and threw his boxers down with a flair of showmanship. Yet, somehow, he never missed a beat, continuing to chant, ?Hey!?
Now people really started to notice. Fingers pointed, mothers became outraged, faces turned red. To amplify the effect, Ed drummed an open palm off the cheeks of his ass. As any slapper of asses knows, to get a crisp sound, you must bend over. So Ed did, treating the entire pre- audience to a rich visual.
The parents, the dates, the children, even the brown puppy, all stared in shocked horror. After ten or fifteen ass slaps, there were only two sounds reverberating on that picturesque suburban street: the slapping and the occasional ?Hey!?
Everyone, including the occupants of the van, were disgusted. No one knew what to do. The men weren?t sure if they should comfort the ladies or attack Eddie. The women all had the same flabbergasted O-face. And as for the children, they took refuge from the sight, hiding behind the legs of adults.
But it didn?t end there.
Eddie took a step forward. It was a labored step ? a pair of jeans shackled his ankles. Everyone got a frontal view of Eddie?s penis. He stood there for a moment, stared back at his audience. Then, he took another step. Still, silence.
Before he quickly pulled up his pants and ran back to the van, he proclaimed a sentence that rang with eternal truth, a prophet delivering an edict to a damned nation. He breathed heavily shouted: ?All your kids ? every single one! ?are fucking tonight!?