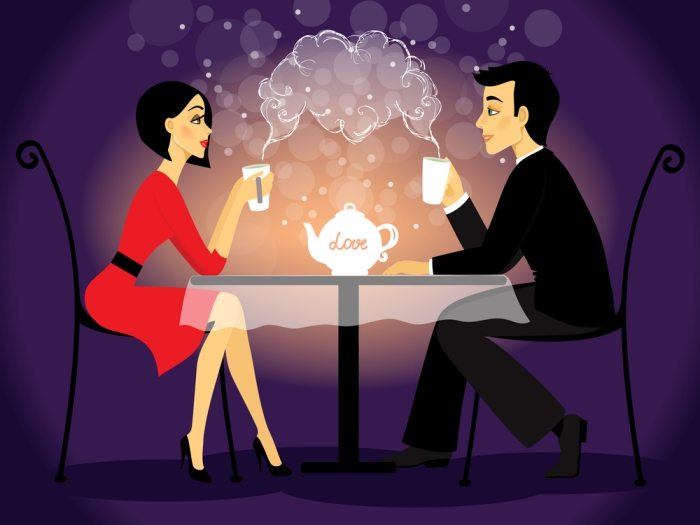 Unique Questions You Can Use On a First Date
When it comes to a first date, there is a lot of expectation involved. You are expecting your date to be lively, fun, entertaining and hot. She is expecting you to be able to chew with your mouth closed and such other important characteristics a chivalrous gentleman should possess.
With such high stakes involved, you've got a serious challenge on your hands in standing out from the crowd of other potential first dates. From hairy hipsters to metrosexual alpha males, if you want to stand out you better have something good up your sleeve.
Luckily, you don't have to go rifling through your 80's outfit collection to try and stand out from the crowd. All you really need to be able to do is ask some unique questions.
The power in conversation is incredible, and with these unique questions to ask your first date she'll be left coming away from the date not wondering if she'll see you again, but when.
Why You Should Stay Away From The 'Traditional Questions'
Dating experts around the globe will give you some 'killer questions' to ask on the first date, but in 2018, none of that shit is gonna stick. Nobody is interested in 'when your last relationship was' or 'what do you do for a living'. It's just old, cliche and boring.
Like Lil Wayne says, 'Real G's move in silence like lasagna.' Powerful stuff.
Make sure to step away from conventional and try out these unique questions on your next first date.
1. What's The Top Thing On Your Bucket List?
A bucket list question can shed some much-needed light on your first date. If you're wondering what kind of person you're on a date with, this question should tell you.
Adrenaline junkies are easy to spot. They'll usually come out with the skydiving, jumping out of a helicopter or bungee jumping off a bridge.
If your date has sipping tea with her cat as no.1 spot on her list, you might be in trouble.
2. What Do You Find Sexiest In a Guy?
This question can give you some powerful information about what your date finds attractive in a guy. It's also a great opportunity for you to move the conversation of trivial topics onto something more sexual.
Bear in mind, this isn't the moment that you want to start faking and impersonating the answer she comes out with. If a girl says she finds it sexy when a guy takes control don't push her over a table, just store it in your memory bank and bring it back up later.
3. What's One Thing I Wouldn't Guess About You?
This one is an awesome question. Not only are you asking your date about her, i.e. you're interested in her, you're going to find out something unique about her, that her stereotype wouldn't portray.
By getting her to open up a little more about herself, you'll get her to share a secret with you. This is probably something she won't tell anybody else.
Just make sure to return the favor and share something surprising or unique about you. This not only gets you a bit more invested in your date, but it can bring up some really interesting conversation points.
4. What's Been Your Most Ridiculous Adventure?
There's something awesome about freeing your mind from the everyday. When you think about ridiculous adventures, and share them with your date, it get's you both into an adventurous state of mind.
Make sure when you are talking about your adventure, not to one-up your date. Nobody likes a show-off, this is an opportunity for you to listen to her story and share your own.
The best tip is to match your story to hers in grandeur and make sure you have something interesting planned just in case she pulls something awesome out of the bag.
5. What Things Make You Laugh the Hardest?
There's nothing sexier on a first date than a girl who is laughing. If you can get you and your date's sense of humour aligned, you are going to win.
Therefore there is no better question to ask than what makes her laugh the hardest. You're getting the keys to the front porch here.
By knowing what makes your partner laugh you'll get a great idea of her overall sense of humor. Just asking this kind of question also gets her in a fun mood. It's also a great way to lighten the mood if the conversation is going a little bit too serious for your liking.
6. What's Your Signature Drink?
This is a great question to bring out early doors of your first date. If you've got the introductions and the how are you's out of the way, you can follow with this question.
This isn't the kind of question that is going to lead into a long conversation about vodka or tequila, although that may lead to some interesting tales. This question is about helping you to understand the personality of your date more.
Is she addicted to skinny lattes? Does she always order the same drink? Does the bartender bring over tequila slammers as soon as you've sat down?
Talking about your signature beverage is a great way to break the ice.
7. What's The Most Embarrassing Concert You Ever Attended?
Ah, the pièce de résistance. This little question can help tell you a little more about the person you are on a date with, but more importantly, it can delve you into a wonderful backstory into the situation that drove them to attend such a terrible event.
This question works in the other way as well. She's probably expecting you to brag about getting backstage access to a Drake concert, not admit that time you and your best friend ended up at a Miley Cyrus concert with a bunch of 12-year-olds when you were 20.
Turning the table and talking about your guilty pleasures is the perfect way to feel like your sharing a secret with your date. If you're lucky, she might just dig it.
Use These Questions On a Date With Skill and Precision
Having a set of scripted questions might not be able to help you if you suck at dating. If in doubt, on a first date you want to be yourself.
But if you want to really impress, check out some of my other posts on how to go to a bar alone and 7 ways on how to keep a conversation going on a date.