Platonic gal pals can be a huge asset to any guy?s friendship arsenal, they?re supportive in a different way then your bros are and they also have an insider?s perspective into the wild world of women. Occasionally this kind of friendship leans toward more than friend territory but will teeter there unless the other party opens that door as well. Here are some signs your best girl friend might be interested in more than just friendship. (here are 5 more signs a girl likes you)
1. She?s More Touchy-Feely than Normal
Physical gestures of affection don?t necessarily mean that she wants you to jump her bones, but if you notice a sudden appearance of her hand here and there where it never used to be, she might be considering the possibility. Her reaching out physically might be sub conscious behavior but she?s probably testing for your reaction on some level. Whether you shrug it off or let it me will send a strong signal to her.
2. She Suddenly Gets Shy Around You
Nothing screams ?I have a crush on you? quite like bashfulness. If your easy going pal suddenly turns into a flustered, soft spoken, or babbling mess of herself, she might be trying to control some romantic feelings that are threatening to overtake her personality.
4. She Responds to All of Your Texts Immediately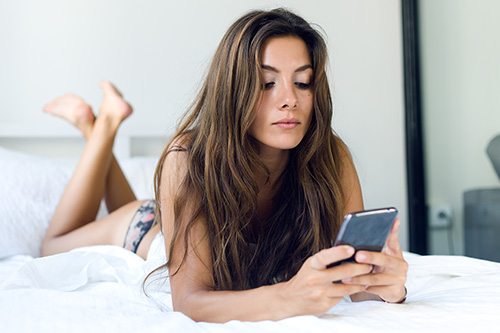 She might just be an efficient texter, but there?s usually some sort of priority order that goes down in text inboxes, as you so well know yourself. Women tend to respond quickly to people that they care about the most in an effort to stay connected. If she increases her text frequency or rapid fires back her responses, you might be tapping on her radar in a new way.
5. She?s Always There
Say you go out for dinner and drinks with a group of friends. If she ends up sitting next to you, and sticking around through the last round of drinks even though her roommate has already gone home, she might be waiting for you to make a move. She could of course, be waiting for someone else in the room to make a move as well, but you can usually start to pick up on who?s she?s sticking around for if that happens on the regular.
6. She Likes to Do Mundane Tasks and Chores With You

A pretty easy way to tell how well you get along with someone is to dually try and put together an Ikea bookcase or hit seven stores in an effort to find the right hot sauce for dinner?and not feel annoyed. If she starts showing up for more and more low-key nights or starts slipping in her own touches and opinions on chore type activities, she might be testing out how she fits in your world on a more intimate level.
7. She Thinks You?re Hilarious
Maybe you are, maybe you aren?t. But if your platonic girl friend starts finding you funnier than her favorite comedian even when you aren?t trying to be funny, she might be crushing a little. Women tend to be amused by men that they like and expressing their response to humor is a great way to express their like. If she turns into your biggest fan overnight it?s time to start being alert to other signals as well.
8. She Gets Irritated When Another Girl is Around
Sure there's a certain amount of territorial nature that goes into friendship…sort of. You're probably not jealous when John is chatting with the bartender and she probably isn't jealous when Susie is talking handbags with someone at the next table over. If she starts exhibiting behavior that says "stay away" to other women or makes moves in an effort to keep you to herself physically or emotionally, she's feeling less and less cool with the thought of sharing you.
The Friend Zone Test: ?Use this Test to See if You're in the Friend Zone