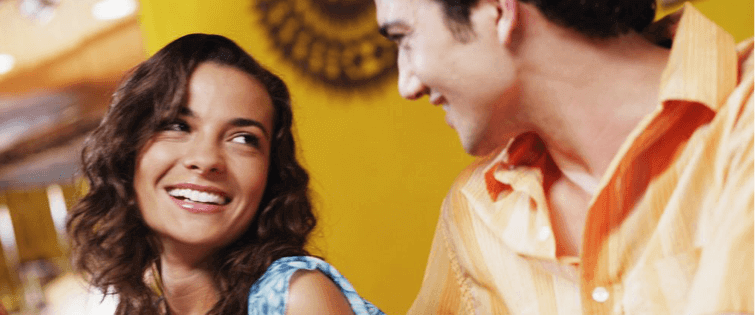 Your ultimate guide to always having words on the tip of your tongue
Do you ever find yourself running out of things to say or scrambling for the next cool story to keep the conversation going?
Maybe it's common that you experience women rolling their eyes or drifting off while you're talking.
Perhaps women are cutting your conversations short and leaving to go and talk to someone more interesting. 
Thankfully, the ability to become a compelling conversationalist is a skill that anyone can learn. 
Below, you'll learn some mindset shifts to ensure you never run out of things to say to a woman again, plus a range of exercises to help your conversations hook her attention and never let it go. 
The myth about running out of things to say
No-one ever truly 'runs out of things to say'. We just run out of things that we think are 'good enough' for our audience.
Or perhaps your anxious brain has kicked into 'fight or flight mode', robbing you of your mental resources. 
Either way, you can be comforted by learning that your vibe is far more important than the actual words you say. It's commonly stated that 93% of communication is non-verbal. So, if you can create a relaxed vibe with your body language and voice tonality, it's likely she'll be relaxed regardless of the words that leave your mouth. If you're creating a sexual, flirtatious vibe, this is what she'll feel in spite of the words you say.  
Once you realise this is true, you can lower the bar for what's 'good enough' to say and look forward to exciting women without having to say anything much at all. This guides on creating a great vibe, building your self-esteem, and overcoming approach anxiety will help.
Also, check out this guide on building your self-esteem. When you think highly of yourself, anything you say is 'good enough' for the woman purely because it comes from you. When your vibe communicates this, other people fall into this frame.  
Ultimately, the more you go out and practice staying in a conversation even when you're nervous, the more comfortable you'll become in these situations, and the easier you'll find words at the tip of your tongue. 
To improve even faster, you could try the following five exercises, either alone or with your wingman.
Five exercises to improve verbal game
1. Practice passing shit tests 
When women begin to show interest in you, it's common for them to take verbal shots at you to test your confidence. This is commonly known as a 'shit test'. If you fail to 'pass' these tests by responding assuredly without hesitation, the woman may lose the belief that you're actually the confident guy you're portraying. 
You'll get plenty of practice at passing shit tests once you start going out and talking to loads of women, but why not also practice responding to them with your wingman while you're on the way to the bar? Have him throw some classic shit tests at you and try to respond as smoothly as possible. You can then return the favor by throwing some his way. 
2. Practice your story-telling with a wingman
Story-telling is a skill you can improve at, so why not practice this with your wingman too? Presuming you both know the key elements of great story-telling – such as structure, emotion, painting a picture using the five senses, voice tonality – then you can each critique each other's technique. 
3. The word association game 
This game will help you never run out of things to say. Set a stopwatch and challenge yourself to rant for a set amount of time without stopping. (3 minutes is a good target for beginners). The key is use a key word from the previous sentence to create an idea for the next sentence. 
"I see you girls are drinking cocktails." 
"My mom likes cocktails, but I drink beers.  
"My mom would like this club actually. She's weirdly into hip-hop music. 
"Hip-hop music is OK, but the new stuff has gone downhill. 
"I tell you what else has gone downhill…" 
You can also play with a partner, by each focusing on the last thing the other person said in a conversation. 
To a man, this type of conversation might sound bizarre and illogical (especially when written down), but women are far more focused on the vibe and emotions of a conversation than the content. So, if your vibe is good, you can still be a compelling speaker by talking this way. 
Another fun form of this exercise is to take the first sentence and bring it further and further into the past or future.
For example:
"I see you girls are drinking cocktails."
"I can already tell this won't be your last round either.
"This bar is going to be out of gin by the end of the night. 
"Seagram's stock prices are going to skyrocket because of you girls." 
Again, it looks a little corny when written down. Again, it's the vibe that makes it work, not the content itself. Even so, this is another skill that'll prevent you from ever running out of things to say. 
4. Humor
Some people appear to be naturally funny, but humor is also a skill that can be learned and improved upon. Every stand-up comedian is painfully aware of the science of humor and what makes people laugh. These five tips are a great starting point for you to learn this too. 
5. Practice flirting
Flirting doesn't come naturally to everyone, especially those who lack confidence. Thankfully, Bobby Rio's flirting guide breaks down the fundamentals of this crucial skill. 
Ultimately, this is perhaps the most important element of verbal game to master. After all, keeping a woman's attention is just the first step to seducing her. Before you win her heart, you'll also need to learn how to make the conversation sexual, as well as how to pull her home.
Nevertheless, once your fear of running out of things to say subsides, this will free up the mental bandwidth for you to focus on making the interaction more seductive.