Want to Get Fit? Write Your Schedule Down
Just to let you know, my girlfriend's going to be doing 30 minutes on the treadmill and 30 minutes on the stationary bike tomorrow.
How do I know about my girlfriend's exercise regimen? I didn't ask her (don't EVER ask a girl about such things unless you want to unleash an emotional hellstorm.) No, I simply read the workout schedule she posted up on the kitchen drawer. Sure, this might not be the most attractive place to post a workout schedule, but it's in a place she's likely to see it. And you know what? That's one hell of a way to maintain a regular workout regimen.
I don't write down anything (well, other than ad copy and TSB articles.) I figure out what I'm going to do and I attempt to do it. And you know what? I forget to do stuff all the time. Whether it's forgetting to take out my dog or forgetting to mow the lawn, sometimes I just let stuff slip and suffer pee on the floor and a ghetto-looking lawn as a result. All this would be fixed if I just wrote stuff down like my girlfriend.
Your body is a complex machine. You can't just go do shoulder work at the gym on Tuesday and then just randomly do two hours of cardio the following Friday and expect to be in decent shape. Working out your entire body takes a strategic approach. The problem is, sticking to an effective workout regimen is hard to do if you don't know what you're doing one day and what you're doing the next. Keeping track of your workouts in some way, shape, or form will help you make sure you're at the gym on the right days performing the right exercises.
Where do you spend the most time? Is it on the couch or in front of the computer? If you want to be consistent about your workout routine, you need to keep your schedule in some place where you'll see it on a regular basis. If you spend most of your waking hours in your mancave playing video games, write your schedule down and post it on the wall by your TV. If you're like me and spend half your day in front of your computer, you can either post your schedule near your computer or keep a reminder somewhere on your desktop. Hell, you can even add your workout routine to your smartphone and set it so you get fitness reminders daily.
If you're some kind of fitness Rain Man and can track your workout progress and know what days to work which muscles with accuracy, keep doing what you're doing. If you're a forgetful, fitness clueless person, you owe it to yourself to write your workout schedule down and keep it in a highly visible place. You'll get an effective workout and won't forget to do stuff like leg-work, no matter how annoying that day can be.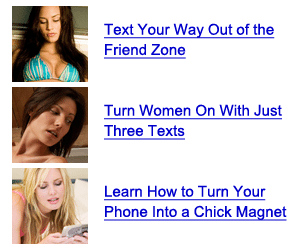 Simple Trick Tells You if a Girl Wants You to Kiss Her
Do girls leave you confused as to whether or not they like you?
Let's face it. Girl's don't make it easy for you. She will often send mixed signals leaving you unable to tell if she is being friendly or flirty. If you read her signals wrong you risk rejection and embarrassment. Or worse, you blow it with a girl who wanted to kiss you.
Here is a simple and innocent move that will instantly tell you if you're in the friend zone, or if she's waiting for you to kiss her.