Cool Shit: Batter Blaster
On my weekly pilgrimage to pick up the food I eat in-between binge drinking sessions (a man cannot live on beer and bar food alone), I came across something truely awesome: Organic Batter Blaster. Pancakes that come  in what looks a big whip cream can. After I stopped laughing like Bevis and Butthead at the name of the product, it dawned on me… When it comes to breakfast food, pancakes in a are about as bad ass as you can get. I bought this expecting it to be really bad and kept it around as a gag… While I showed it to everyone that stopped by my place, I'm pretty sure it stayed in my fridge for a good 2 weeks before I grew the testicles to try it out. 
I was expecting the batter to shoot out of the can like whip cream does, but the batter kinda oozes out of the nozzle. Anyways a few moments later I had a stack of pretty good tasting pancakes comparable to ones made with Bisquick. I've bought a can or two since then. If you're having someone sleep over and want to impress them with breakfast this will definitely work to you favor.  Pretty sure you can pick up a can from any super market for like 5 bucks or so… makes a good 10 medium sized pancakes.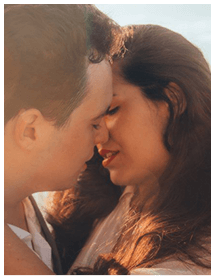 Simple Trick Tells You if a Girl Wants You to Kiss Her
Do girls leave you confused as to whether or not they like you?

Let's face it. Girl's don't make it easy for you. She will often send mixed signals leaving you unable to tell if she is being friendly or flirty. If you read her signals wrong you risk rejection and embarrassment. Or worse, you blow it with a girl who wanted to kiss you.
Here is a simple and innocent move that will instantly tell you if you're in the friend zone, or if she's waiting for you to kiss her.

We respect your email privacy
About PeteTheFreshman Finding hot chicks, gadgets and hanging out with bands is a tough job, but someone has to do it... Self proclaimed gonzo journalist, tech monkey, and lush, PeteTheFreshman writes the posts that require the least amount of writing skill.