Study Break with Amanda Metcalf
I found this college cutie today while I was searching around the Internet for some laughs. I always get drawn into the college humor "cute college girl" section when I visit their site. This time I was stopped while looking at Amanda Metcalf. Amanda is currently serving time at the University of Syracuse in New York where she studies communications. I always looked at communitcations as undecided…he he.
I am not always attracted to girls with tatoos, but there is something about this one that I like a lot. She's like a bad ass girl from next door!
What song did you lose your virginity to? Did he even last through the entire song?
Does cheap beer and wine coolers count as a song? Yeah, we were classy… honestly, I don't think he even lasted for the initial insert before people walked in on us. Really though, isn't everyone's first time just amazing and beautiful just like mine?

That's classic!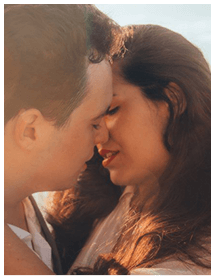 Simple Trick Tells You if a Girl Wants You to Kiss Her
Do girls leave you confused as to whether or not they like you?

Let's face it. Girl's don't make it easy for you. She will often send mixed signals leaving you unable to tell if she is being friendly or flirty. If you read her signals wrong you risk rejection and embarrassment. Or worse, you blow it with a girl who wanted to kiss you.
Here is a simple and innocent move that will instantly tell you if you're in the friend zone, or if she's waiting for you to kiss her.

We respect your email privacy
About MikeStoute Michael Stoute here, and at your service. I am a writer/editor/lover and a fighter. My words are weapons of wisdom so watch out, you may learn something...or better yet, maybe you can teach me something! Have a question? Please try to leave it in the comments, it will get a faster response than an email. Otherwise, Email Me