When presented with this question, women often give very different answers—depending on who's doing the asking. To an anxious lover, she will naturally be inclined to insist that it doesn't matter in the least. But when gossiping with the girls, she may have another opinion altogether. Which is the truth?
The simplest answer is that size does matter, but not nearly as much as men think. I would say that it matters more in the abstract than in actuality.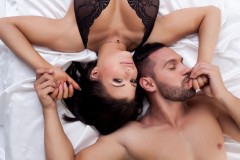 In the course of writing erotica for women I've had the opportunity to do quite a lot of research on women's sexual fantasies. Within this multi-faceted realm of women's most secret and intense desires, I've discovered that penis size is rather insignificant.  Although it does come up from time to time, it's rarely a critical factor in the overall fantasy. There's almost always a more significant dynamic at work, which generally materializes in the form of a behavior rather than a physical attribute. For example, if a woman's fantasy is to be dominated, it will be the acts of domination (ie., being tied up, spanked, etc.) that fuel her excitement. As an aside to the behaviors that excite them, many women will embellish their sexual fantasies with remarkably vivid details, one of which might feature a large penis, but this aspect of the fantasy represents the proverbial icing on the cake, and is not necessarily an element that is required to make the fantasy work for her. As she becomes more and more aroused, she will become even more focused on the sexual behaviors above anything else.
This is where it gets interesting. When it comes to physical appearance—size, shape, etc.—women are much more concerned (some might even say obsessed) with their own bodies than they are with those of their partner. Did you know, for example, that a prevalent feature in many female fantasies—more prevalent than penis size—is for her to imagine herself to be physically different than she is? It's true. All this time, while you've been worrying that she's fantasizing about George Clooney she was probably conjuring an image more like Angelina Jolie. Understanding this can give men an amazing advantage. There is, in my opinion, a critical difference between men and women when it comes to enjoying sex: men (generally speaking) need little more than to see or imagine something sexy (a sexual image or idea), whereas women need to feel sexy.  The more you think about this concept the more sense it makes, and the less confusing female behavior becomes. Women need to feel sexy.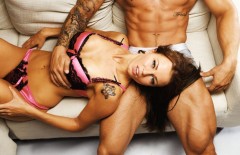 The problem, of course, is that 99% of the women out there don't feel sexy most of the time. This isn't necessarily male fault. It seems that every aspect of our media is working overtime to prove that women—women as they actually are, that is—are, in fact, the antithesis of sexy. The various media have their reasons. The sex industry strives to create images that out-sex the real thing in order to get men to buy what they're selling. The beauty industry does the same thing to women in an effort to sell them their products. And everyone in between, it seems, is trying to get in on the action, capitalizing on this very negative approach to selling their stuff. They tirelessly reiterate the common theme that there is something better out there: something better that men can be enjoying and something better that women can be.
Since women need to feel sexy in order to enjoy the sexual experience, and since most women don't, a sexual void has been created. I believe this is why so many women began incorporating a sexier image of themselves into their sexual fantasies. The images they conjure up are eerily similar to the female stereotypes in the media. Meeting this standard is crucial for some women. It helps them feel 'sexy' enough to engage in their fantasies, to visualize themselves participating in the sexual behaviors that turn them on. And when a woman fantasizes, the sex can be tremendously more enjoyable for both. There is little or no need for a man to feel threatened by a woman's fantasies. Odds are that, if he's in there, he'll make his appearance pretty much as he is; because it's not him who she's convinced isn't good enough, but her. And it wouldn't matter anyway because his libido will allow him to enjoy sex even if he doesn't particularly feel like an Adonis. But a woman's sexuality isn't as resistant, and I truly believe that the women who can't feel sexy no matter what they do make up the largest portion of the purported 70% of women suffering with the "sexual dysfunction" of having no sex drive whatsoever. For a woman who doesn't feel sexy, the act of having sex can actually seem like a chore.  There are things men can do to help, and I intend to discuss these things in much more detail in future articles, but for the subject at hand, which is penis size, the point is that women are preoccupied with much bigger issues.