How to Wear Pink Without Feeling Like a Breast Cancer Awareness Ribbon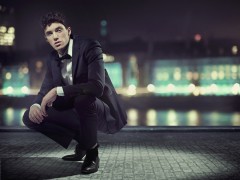 A couple of years back, I started seeing guys rock the pink polo everywhere. At first, I didn't know what had happened and was convinced I had entered into Seinfeld era bizarro world. But then it stuck. So unless the past five years have been my imagination (and active as it is, I don't think that's the case) pink is here to stay, for better or worse, just like your momma's loser new husband.
I blame Abercrombie and Fitch mostly for this phenomenon. They probably weren't the first apparel company to push the pink men's shirt, but they were certainly the most prolific. And most of America has been coerced into thinking that these Abercrombie people know what looks good by their damn shopping bags with all of the pretty, tan beach bodies frolicking with the wind in their hair. Yes, those persuasive shopping bags have pushed us to the brink of color audacity by appealing to our inner desire to run barefoot on the beach.
Pink can be pretty tough for guys to pull off, but there's no reason you can't work it with a little discretion, a little thought as to shade, and a lot of balls. I mean seriously, are you really gonna be afraid of a little old pansy color like pink?
But that's exactly the problem. We've been taught that pink is a pansy color. From basically the time that we were first trying to learn to take a dump independently of mommy, we have been socialized to believe that pink is for girls and blue is for boys. But that's not nature's rule; that's just alliterative association! And I'll be damned if I'm the kind of person that bases manhood around color schematics.
Do you think Clint Eastwood stands in the checkout line at the store agonizing over whether his holsters are manly in color? No. Do you think Bogey would ever have questioned whether his masculinity would be threatened by a fuschia tie? No, he was too busy getting wasted and telling Sam to play it again. And that's what a real man does: gets drunk and listens to his jams.

A lot of guys worry that a pink article of clothing is going to send a particular sign to eligible single ladies, that being, "Hey, sugar, look at me! I'm a total fairy!" Well, the first part may be correct, but a shirt is hardly going to tip you over onto all fours. Women don't look at a guy and think, "By God, it's such a shame that he's wearing a pair of pink sneakers, since that clearly indicates that he's a homo. If it weren't for that, I would surely sidle up next to him at the bar, buy him a Black Label on the rocks, and give him my phone number for a no strings attached booty call at any hour on any given day of the week."
If a girl isn't talking to you while you're wearing a pink shirt, let it be known that it has nothing to do with your shirt and everything to do with your terrible ten dollar Super Cuts pseudo-mullet and Chuck Norris jokes. In fact, I'm pretty sure that the Pink Tells Women You're Gay myth was initiated by a guy scorned whilst macking in a pink vest.
That said, there are certain articles of clothing that should be never be worn in pink, one of them being a turtleneck and the other being a vest. This is less about the color, though, and more about the fact that turtlenecks and vests are the deformed bastard cousins of the T-shirt. And here's the thing about pink: it accentuates. In the case of vests and turtlenecks, it accentuates that you have terrible taste. However, it can also highlight that you are an undeniably bold, classy guy.
Possibly the best article of pink clothing that I have ever seen a guy wear was a pink Ramones T-shirt. It was really sort of perfect for the pink neophyte, since any qualms about being emasculated by the color could be negated by the pansy-annihilating spirit of punk rock. More importantly though, it brought attention to mofo's banging musical taste.
Given a choice in shades, it tends to be best wearing a bright pink. You don't want to look like an Easter egg after all. But the bottom line with this b'te noir of menswear is that it's great because it lets the world know that you're the kind of guy that doesn't really give a flying rat's behind what other people think. It's not for the faint of heart, the self-conscious, or the followers. I could talk about the difference between a magenta sweater and salmon pullover until blue in the face, but you don't need style rules to wear pink; you need a sac.